BMW and Halfords TV adverts banned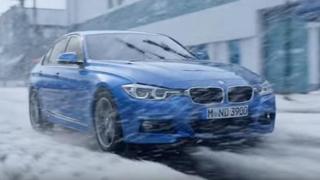 TV adverts for retailer Halfords and BMW have been banned after it was ruled they encouraged dangerous driving.
The BMW commercial featured a car driving on various surfaces while the Halfords ad showed a vehicle driving quickly in wintry conditions.
The Advertising Standards Authority (ASA) upheld complaints against both ads, which aired between 2017 and 2018.
BMW said cars in its ad were "driven safely" while Halfords said the segment in its was "obvious puffery".
The BMW promotion, which featured Blur's Song 2 as its backing track and showed cars driving on different surfaces, attracted just one complaint despite being aired over a 12-week period and viewed by an estimated 9.3 million people.
The German car manufacturer argued that meant viewers "did not consider the ad to breach" the ASA's code.
It also claimed its strap line, which referenced driving "for the sheer pleasure of doing it", did not encourage people to drive faster.
However, the regulator ruled BMW had condoned "dangerous or irresponsible driving by suggesting that a vehicle's features such as the all-wheel drive enabled it to be driven faster" and banned the advert in its current form.
Halfords said the broadcast it had received two complaints about, which showed sped-up dashcam footage of a car driving round corners on a snow-covered road, was a "clear exaggeration" and "in no way encouraged dangerous driving".
Again, the ASA agreed with the complainants, stating the footage "was recognisable as a real-life setting and therefore would be realistic to viewers".
The regulator also said Halfords' slogan "ready for quick getaways" implied that speed "was essential" and banned the advert in its current form.