Threat from organised crime 'growing', agency says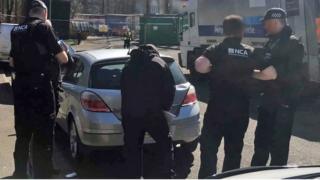 Organised crime affects more people in the UK than any other security threat, says the National Crime Agency.
It warns the scale and complexity of organised crime groups is growing, driven by global movements of people and new technologies like encryption.
It estimates there are 4,629 crime groups in the UK, with many offences under-reported.
It says that more firearms have been arriving as gangs work across borders to smuggle them from Europe.
In its annual report, the NCA says the breadth of threats from serious organised crime groups means the police and other agencies must increasingly think differently about how to combat the thousands of gangs.
"This year's assessment shows that organised crime groups (OCGs) are exploiting digital technology, for instance using encryption to communicate, and dark web marketplaces to aid their activities," said Lynne Owen, the NCA's director general.
"Criminals are continuing to develop international connections to increase the reach of their activity, and to maximise profits.
"The increasing sophistication of crime groups, coupled with the changing nature of their geographical reach, demonstrates more than ever the requirement for an increasingly co-ordinated response," she said.
Analysis
By Dominic Casciani, BBC home affairs correspondent
Organised crime was once just about things that were easy to understand and relatively easy to see: drugs; gun smuggling; extortion and armed robbery, to name but a few.
Today's annual report from the NCA is sombre reading because it underlines how modern-day crime connects events very close to your home to a global marketplace.
If a group can find an illicit way to make a profit, they will try to do so - they're not fussy.
Modern communications are making these crimes easier, lowering the entry levels for start-up gangs - and the global movement of people, cash and goods can make the trail go cold before investigators have cracked the secret communications.
These changes to organised crime are happening faster than policing tactics can evolve - and many experts believe, as the rise of cyber and human trafficking has shown, things are going to get worse before they get better.
The report predicts modern slavery, such as where someone has been coerced into working illegally in cash businesses such as car washes, would continue to grow - but also change.
If immigration falls, the number of illegal immigrants and British citizens tricked into these conditions could grow.
Many threats remain largely hidden from the public as gangs use the the "dark web" and readily-available encryption tools to conceal their activities, said the agency.
These include billions of pounds in money laundering, fraud and attempts to blackmail businesses by launching cyber attacks on their networks.
Beyond cyber offences, encrypted communication apps were now being used by all types of organised crime gangs, it said.
The NCA also warned the UK remains a "prime destination" for money laundering from Russia, Nigeria and Pakistan - with the London property market being regularly exploited.
Smuggling
While the UK still has one of the lowest levels of firearms offences in the world, the NCA said it was concerned about the smuggling of weapons from Eastern Europe via Belgium and the Netherlands.
"The vast majority of criminal firearm discharges in 2016/17... involved weapons not previously discharged in crime, suggesting a sufficiently fluid supply," said the report.
"This trend is assessed as largely due to firearms entering the UK from overseas and previously legal weapons entering criminal hands after being stolen, diverted or modified within the UK."
The UK's 3,000 air fields also presented "opportunities" for groups smuggling in both people and drugs.
In turn, the UK's drug market was substantially changing with gangs developing so-called "county lines" networks in which products are illicitly moved from cities to smaller communities via orders placed on untraceable mobile phones.