Couple take civil partnership case to Supreme Court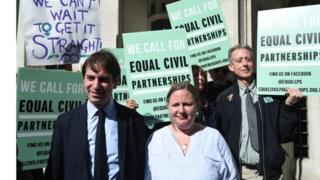 A heterosexual couple who want to get a civil partnership, instead of a marriage, are taking their case to the Supreme Court
Currently only same-sex couples are able to enter into civil partnerships.
In 2017 the couple's case was defeated at the Court of Appeal but they were allowed to go to the Supreme Court.
Rebecca Steinfeld, 36, and Charles Keidan, 40, from west London, say the government's position is "incompatible with equality law."
Their case will be heard by a panel of five judges including the court's president Lady Hale.
If the Supreme Court overturns the previous judgement, heterosexual couples would be allowed to enter into a civil partnership, which came into law for same-sex couples in 2005.
Last year the Court of Appeal heard that the couple wanted to enter into a legally-regulated relationship which does not carry "patriarchal baggage".
Ms Steinfield told the BBC's Victoria Derbyshire Show she wanted the legal recognition and financial protections that come with being recognised by the law as partners, without having to get married.
"We see each other as partners rather than husband and wife," she said.
Her partner, Charles Keidan, said it was "absurd" that civil partnerships weren't extended to everybody.
"It would be a simple and popular measure," he said.
The BBC's legal correspondent, Clive Coleman, said there are two grounds on which the couple are challenging the ban on heterosexual couples entering into a civil partnerships.
Firstly, they argue the ban discriminates against them on the grounds of their sexual orientation.
Secondly, the couple say it breaches their right to a private and family life as protected by the Human Rights Act.
In a move our correspondent said had blind-sided the couple's legal case, the government has announced that it wants to carry out more research into the issues.
Specifically the government plans to examine the take-up of civil partnerships by gay couples and the motivation of heterosexual couples wanting civil partnerships.
Get news from the BBC in your inbox, each weekday morning
Chair of the Equal Civil Partnerships Campaign, Martin Loat, said the "long-winded research and consultation process" would not be finished until 2020.
He accused the government of "moving very slowly" on the issue.
David Levesley, social media editor for the i newspaper, opposes civil partnerships, in their current form, being available for heterosexual couples.
"It's problematic to think civil partnerships are fine, or equal to marriage, when historically they were designed as a less-than option for the LGBT community," he said.
How do same-sex marriage and civil partnership compare?
Equal legal treatment in matters including inheritance, tax, pensions and next-of-kin arrangements
Rules for the dissolution of a civil partnership are the same as those for marriage, except that adultery cannot be used as evidence
In a civil ceremony there is no requirement to exchange vows and while you can include readings, songs or music, there must be no religious component
Partnership can be conducted in private, whereas marriage ceremonies must be public and can be conducted by clergy
Marriage certificates include the names of only the fathers of the parties. Civil partnership certificates include the names of both parents