Royal wedding 2018: Prince Charles to walk Meghan down the aisle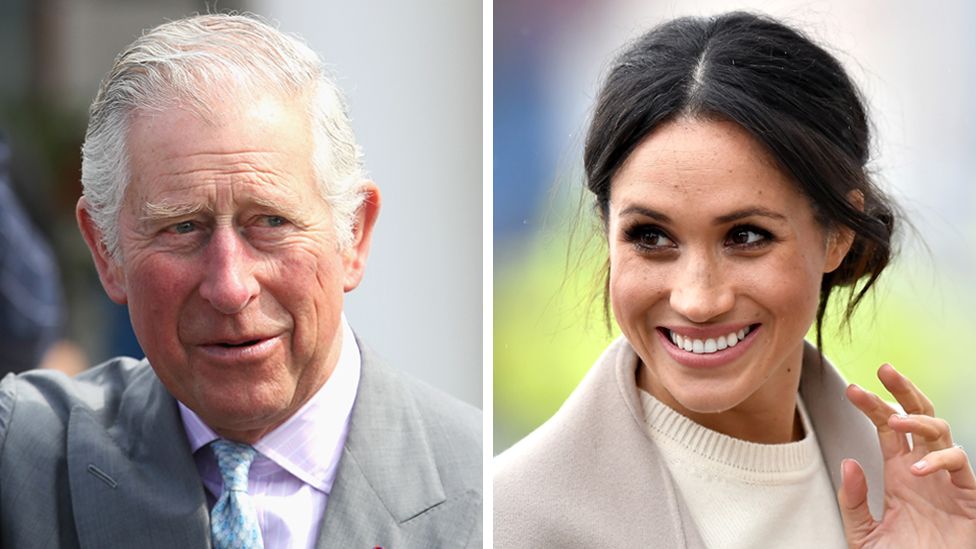 Prince Charles will walk Meghan Markle down the aisle on Saturday when she marries Prince Harry, Kensington Palace has said.
Ms Markle's father, Thomas, is unable to attend the wedding, after undergoing heart surgery.
The Prince of Wales was "pleased to be able to welcome Ms Markle to the Royal Family in this way", the palace added.
Prince Harry's grandfather, the Duke of Edinburgh, will also attend the wedding, Buckingham Palace confirmed.
Prince Philip, 96, has been recovering from a hip operation.
Ms Markle's mother, Doria Ragland, will take her daughter to the wedding at St George's Chapel in Windsor.
Ms Ragland has arrived at Windsor Castle to meet the Queen for the first time, accompanied by Ms Markle, 36, and Prince Harry, 33.
She has already been introduced to Prince Charles and the Duke and Duchess of Cambridge.
The ceremony begins at 12:00 BST and will be broadcast to the world.
The Archbishop of Canterbury, Justin Welby, who will marry the prince and Ms Markle, said he thought it was "wonderful" Prince Charles will walk Ms Markle down the aisle.
"He's a very warm person and that he's doing this is a sign of his love and concern and support," he said.
Speaking to the BBC from Windsor, American celebrity news site TMZ's Sean Mandell said he had spoken to Mr Markle on Wednesday and that he was "doing well" and "recovering from surgery".
Mr Mandell - who broke the story - said Mr Markle realised on Tuesday that he would not be travelling to Windsor.
"Chest pains were really being exacerbated by the emotional strain he was under," he said.
"When doctors told him he needed to have surgery, he decided he needed to heed that advice, despite the fact he wanted to be here in Windsor for Meghan."
"He definitely feels he's been mis-characterised," Mr Mandell added. "That's why he felt the need to speak out when I reached him."
Ms Markle released a statement on Thursday saying she hoped her father could be given space to focus on his health.
Ms Markle's mother met William and Catherine and their eldest children, Prince George and Princess Charlotte, at Windsor Castle on Thursday afternoon.
She took tea with Prince Charles and Camilla at Clarence House in London on Wednesday.
She decided against having a maid of honour, saying she wanted to avoid choosing between her closest friends.
The two women, dressed in union jack gear, summed up the mood for one of the many TV crews.
"Excited, excited, excited is what we are!" they said.
Behind them, the castle; in front of them, a line of shops that, for the past few days, have been bound together by bunting.
On top of the stores, lucky residents sit beside open windows, drinks in hand, looking at the view that many have been camping out for: the road leading to the castle gate.
Other buildings have bright lights and correspondents' backs lining their balconies. On a sunny day, the lights seem unexpectedly stark.
All eyes peer inside every car that drives by, looking for - hoping for - a glimpse of the royal couple.
In front of the castle, two women take a defiant selfie - despite the best efforts of an officer. "Keep it moving please!" he says.
Ms Markle will spend her last night before the wedding with her mother at the luxury Cliveden House Hotel, in Buckinghamshire, about nine miles north of Windsor Castle.
Prince Harry will be staying 15 miles away at the Dorchester Collection's Coworth Park in Ascot, with his brother, the Duke of Cambridge.
In Windsor, royal fans have been arriving throughout the week, with the rehearsal of the carriage procession on Thursday drawing hundreds of children, parents and pets keen to embrace the party mood.
About 250 members of the armed forces are expected to take part on Saturday and up to 100,000 people are expected to line the procession route.
Thames Valley Police has said it expects the town to be full to capacity by 09:00.