Royal Wedding 2018: The bridesmaids and pageboys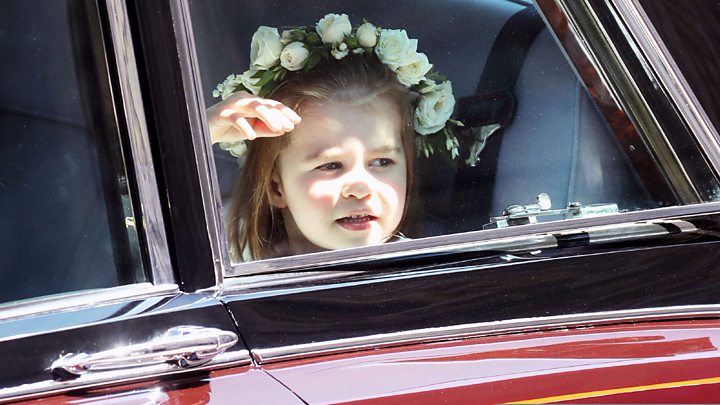 Six bridesmaids and four pageboys played a major supporting role as Prince Harry and Meghan Markle tied the knot. Prince George and Princess Charlotte - Prince Harry's niece and nephew - were among the children, all aged between two and seven, under the spotlight of the world's media at St George's Chapel, Windsor.
Princess Charlotte was joined as a bridesmaid by Prince Harry's god-daughters - Zalie Warren, two, and three-year-old Florence van Cutsem - and Meghan's Markle's goddaughters. Sisters Remi and Rylan Litt, aged six and seven respectively, and four-year-old Ivy Mulroney are the daughters of Ms Markle's friends Benita Litt and Jessica Mulroney.
As a pageboy, Prince George wore a miniature version of the Blues and Royals frockcoats worn by Prince Harry and his brother and best man Prince William. The other pageboys were seven-year-old twins John and Brian Mulroney and Jasper Dyer, six, another of Prince Harry's godsons.
The Duchess of Cambridge arrived with Prince George (l), Jasper Dyer, Princess Charlotte (r) and Florence van Cutsem.
The bridesmaids had to be given a helping hand as they walked up the steps of St George's Chapel. Princess Charlotte turned to give a wave.
The designer of the wedding dress, Clare Waight Keller, was also behind the bridesmaids' dresses. Made of ivory silk radzimir, the high-waisted outfits with short puff sleeves and pleated skirt were hand finished with a double silk ribbon detail tied at the back in a bow.
The girls also wore a flower crown chosen by Prince Harry and Meghan, which replicated the blooms used in the bridal bouquet.
Pageboys John and Brian Mulroney accompanied Meghan Markle on the journey from her hotel to Windsor in a vintage Rolls-Royce.
They held the train of Ms Markle's dress as she walked up the steps of St George's Chapel.
Just before Ms Markle arrived, the Duchess of Cambridge helped coax the children into position. They were handed flowers, ready for their big moment. And they walked back down the aisle with the newlyweds at the end of the service.
A wave goodbye from Princess Charlotte after the service as the new Duke and Duchess of Sussex boarded a horse-drawn landau for the procession in front of cheering crowds.