Royal wedding 2018: Moments you may have missed
The stunning dress, the much-anticipated kiss, the US bishop Michael Curry - those royal wedding highlights were splashed around the world. But what about Oprah's dressgate and the unruly horse? Here are those, and other moments, you may have missed...
Stella McCartney to the rescue
US TV star Oprah Winfrey arrived at the wedding looking serene and relaxed.
But her demeanour hid the last-minute drama surrounding her choice of outfit.
She had realised on Friday morning that the beige dress she had been planning to wear appeared "too white" for a wedding in photographs.
Luckily, Stella McCartney came to the rescue to help her avoid making a wedding faux pas in front of millions of viewers.
In a video posted on Instagram, she thanked the designer's team for "working all night long" to make her a new outfit.
---
'Oh my god'
The new Duchess of Sussex couldn't contain her excitement at spotting a familiar face in the 100,000-strong crowd.
Meghan gasped and appeared to say "Oh my god" at seeing her former drama teacher, Gigi Perreau, as her carriage travelled through Windsor.
The heart-warming moment was captured and shared by TV weather presenter Alex Beresford.
Ms Perreau, a 1940s film star turned acting coach, beamed after catching her former pupil's eye.
---
Horse loses its way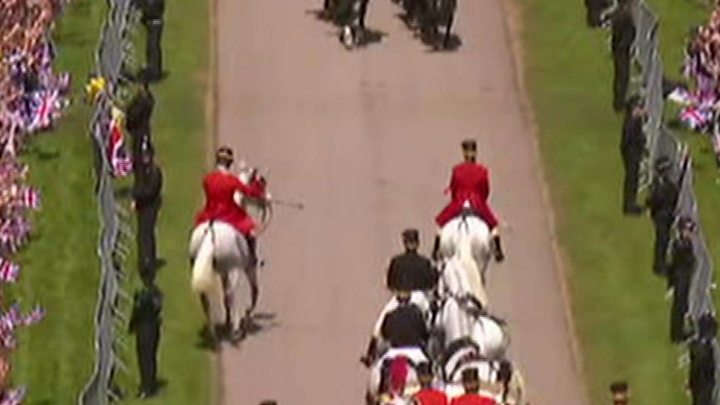 It was Prince Harry and Meghan's day but that didn't stop one horse trying to steal the limelight.
The white stallion, part of the procession escorting the newlywed couple around Windsor, decided to take its own route.
The wayward horse headed towards the crowd before it was wrestled back into line by its rider.
One Twitter user compared it to "when you try to make it back home after a night out on a Friday."
---
Scene stealers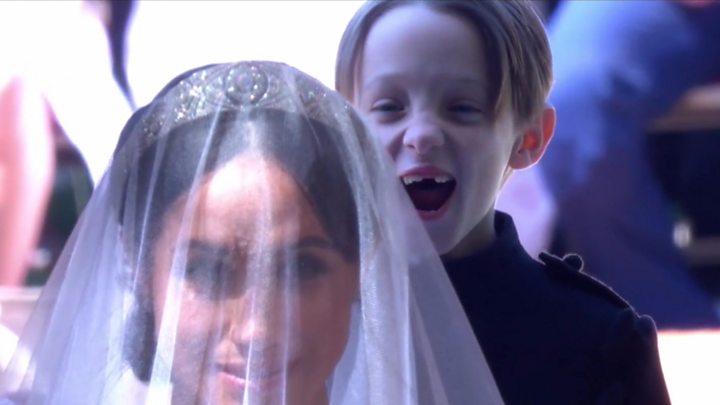 The horse wasn't the only one to make a name for itself. The pageboys and bridesmaids also enjoyed their time in the spotlight.
There was the moment seven-year-old pageboy John Mulroney "photobombed" Meghan as she walked down the aisle.
John, the son of Meghan's close friend Jessica Mulroney, couldn't hide his emotions on entering St George's Chapel.
Princess Charlotte again showed she was not afraid of the cameras - by cheekily sticking her tongue out at waiting photographers.
And another of the bridesmaids, Rylan Litt, showed her relief at the end of her big moment - by wiping her brow after escorting Meghan up the aisle.
---
Serena's sneakers
Tennis star Serena Williams changed into a floor length Valentino gown for the evening celebrations - and showed it off on social media.
But she later revealed that, underneath her dazzling dress, she had been hiding some comfy friends...
She wrote: "Little known fact: I often wear sneakers under my evening gown... I tend to be comfy for long nights."
It's not the first time the American has worn trainers to a wedding - she wore a pair covered in jewels for her own special day.