Drugs policing: Federation spokesman calls for policy rethink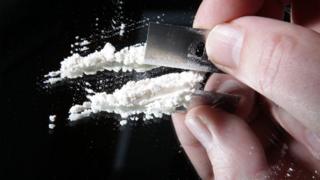 The Police Federation spokesman on drugs policing, Simon Kempton, has called for a rethink on drugs policy, saying prohibition has "never worked".
Sgt Kempton, who works for Dorset Police, said the government should consider the Portuguese approach, where the possession of drugs has been decriminalised since 2001.
He is the latest high-profile policing figure to question current drugs policy following Durham Chief Constable Mike Barton.
Sgt Kempton's comments, made at a Police Federation conference debate on the causes of gang and knife crime, came as officers were told they should be focusing more on recreational drug users.
Sheldon Thomas, a former offender who now runs Gangsline, said tackling street gangs failed to address the "middle classes" who were spending thousands of pounds on class A drugs, such as cocaine.
Sgt Kempton agreed, saying street gangs sold drugs to "middle class" professionals because it was more lucrative.
"If I could only stop one group I'd stop the middle class dealers," he said.
But the officer said an independent royal commission was needed to investigate the evidence for an entirely fresh approach.
'Debate needed'
"I don't know much but I know prohibition doesn't work," he said.
"I don't know what the answer is but we've got a century or more in this country to demonstrate that prohibition isn't working yet."
Sgt Kempton, who has spent 10 years investigating and tackling drugs, said the Portugal system was "really interesting".
"Across the board you see far less drug use and that's had a knock-on effect to some crime types, particularly acquisitive crime," he said.
Speaking to the BBC later, he said: "We need a properly informed and robust debate where we're confident to express what we're trying to achieve."
'Devastates lives'
He said his views did not represent official Police Federation policy, saying that officers would continue to enforce the law.
A Home Office spokesperson said: "Drug misuse can devastate lives, ruin families and damage communities. This government's approach remains clear - we must prevent drug use in our communities and support people through treatment and recovery.
"Last year we released a comprehensive drugs strategy, setting out a balanced approach which brings together police, health, community and global partners to tackle the illicit drug trade, protect the most vulnerable and help those with a drug dependency to recover and turn their lives around."