Ireland abortion referendum: UK minister hopes for NI law change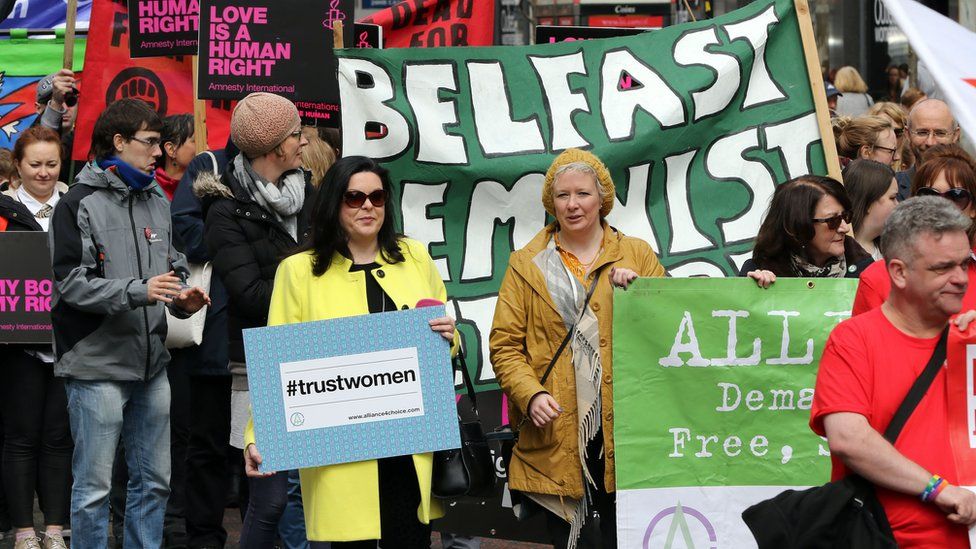 A landslide vote in favour of overturning Ireland's abortion ban gives "hope" to Northern Ireland, UK minister Penny Mordaunt has said.
The referendum result has sparked calls for the issue to be reassessed in Northern Ireland, where laws are much stricter than the rest of the UK.
But Democratic Unionist MP Ian Paisley said it "should not be bullied into accepting abortion on demand".
Voters in the Irish referendum backed a law change by 66.4% to 33.6%.
Following that result, Northern Ireland will soon become the only part of Britain and Ireland where terminations are all but outlawed.
Those taking part in Ireland's referendum were asked whether they wanted to repeal or retain a part of the constitution known as the Eighth Amendment, which says an unborn child has the same right to life as a pregnant woman.
The vote in favour of repeal paves the way for the Dáil (Irish Parliament) to legislate for change which would see the introduction of a much more liberal regime.
Labour leader Jeremy Corbyn said the referendum result was "a fantastic victory for women's rights".
After early results suggested a landslide, women and equalities minister Ms Mordaunt tweeted that it was a "historic" day for Ireland and a "hopeful" day for Northern Ireland, adding "that hope must be met".
Skip twitter post by Penny Mordaunt MP
Based on the exit poll, a historic & great day for Ireland, & a hopeful one for Northern Ireland. That hope must be met. #HomeToVote stories are a powerful and moving testimony as to why this had to happen and that understanding & empathy exists between generations. #trustwomen

— Penny Mordaunt MP (@PennyMordaunt) May 25, 2018
The BBC is not responsible for the content of external sites.
End of twitter post by Penny Mordaunt MP
Abortions are only allowed in Northern Ireland if a woman's life is at risk or there is a permanent or serious risk to her physical or mental health.
Rape, incest and fatal foetal abnormalities are not circumstances in which they can be performed legally.
Liberal Democrat leader Sir Vince Cable said the UK government should take advantage of the current lack of a devolved administration in Northern Ireland.
He said: "Since there is, effectively, direct rule from Westminster, the government has responsibility and it can and should take the opportunity to deal with this issue properly.
"The position in Northern Ireland is now highly anomalous and I think, probably, action will now have to be taken."
The leader of the Alliance Party in Northern Ireland, Naomi Long, responded to Ms Mordaunt by saying she could "effect change" in Northern Ireland and should use her "influence with others to ensure this happens".
Skip twitter post 2 by Naomi Long MLA
Penny, you can, as a Minister for Women & Equalities in Westminster, effect change in NI, too.

Equal marriage and abortion reform must now be addressed: NI people deserve to be treated equally. No more delay.

Please, use your influence with others to ensure this happens.

— Naomi Long MLA (@naomi_long) May 26, 2018
The BBC is not responsible for the content of external sites.
End of twitter post 2 by Naomi Long MLA
Labour MP Stella Creasy also responded, tweeting that she hoped Ms Mordaunt would "stand up to colleagues in government stopping reform of our UK abortion laws".
And Amnesty International, which campaigned for the yes vote in the Republic, said nearly "three-quarters of people" in Northern Ireland wanted to see a change in abortion laws.
Colm O'Gorman, of Amnesty International Ireland, told Radio 4's Today programme: "It's entirely unacceptable that women and girls there still have to travel over to Britain to access abortion care."
The British Pregnancy Advisory Service, a charity which provides abortions, said the UK government "cannot continue to try and absolve itself of their responsibility to these women".
Clare Murphy, a director of the charity, said: "While the government can say that abortion is a devolved issue, human rights are not, and the collapse of the NI Assembly means that the power to right this wrong lies solely in Westminster."