NI abortion law: Reform 'a feminist test for May'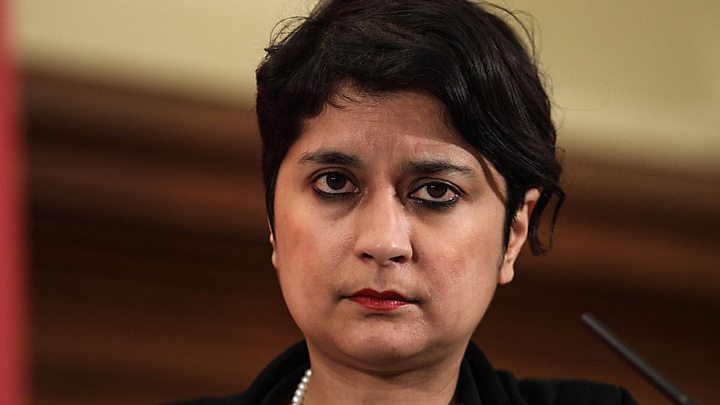 Labour has challenged Theresa May to show she really is a feminist by backing reform of Northern Ireland's strict abortion law.
Shadow Attorney General Shami Chakrabarti said women in Northern Ireland "have been let down by privileged women and men for too long".
She said the PM was a "self-identifying feminist" and "the test of feminists is whether they stick up for all women".
Following Ireland's historic vote, the PM has been urged to liberalise NI law.
MPs from all parties - including some within Mrs May's own cabinet - have already called on the prime minister to support a change to the law in Northern Ireland, which is more restrictive on abortion rights compared to the rest of the UK.
Arlene Foster, who is the leader of the Democratic Unionist Party propping up Mrs May's minority government, previously said the landslide pro-abortion vote in Ireland had no impact on Northern Ireland.
The UK government agreed with her.
Writing an opinion piece in Tuesday's Daily Mirror, Baroness Chakrabarti said women "have a right to make difficult ethical decisions about their bodies for themselves".
Feminists must stand up for all women, "not just women we meet at parties", she wrote, adding: "This is a feminist test."
The Mirror article reiterates the position set out by Baroness Chakrabarti on BBC Radio 4's Today programme on Monday.
Then she said: "We are calling on Mrs May, a self-identifying feminist, to negotiate with the parties in Northern Ireland and then to legislate without further delay."
The peer continued: "I think that Theresa May, really as a self-identifying feminist, needs to say 'Yes, I unveil statues of suffragists in Parliament Square, but the test of my feminism will be whether I guarantee fundamental human rights for women.'"
'Politically fraught'
Analysis, by BBC political correspondent Alex Forsyth
Theresa May would no doubt defend her record on so-called women's issues; pointing to her work on modern slavery in the Home Office and attempts to address the gender pay gap from Downing Street.
But the issue of abortion reform is far more politically fraught.
Reliant on the DUP for her parliamentary majority, Mrs May can't afford to anger the Northern Irish party by suggesting reform from Westminster.
On the other hand, several senior Tories - on whose backing the prime minister also depends - have expressed support for change.
With no devolved administration in Belfast there is some pressure for the UK Government to act.
Keen to avoid that, Downing Street sources have repeatedly said it's an issue to be determined in Northern Ireland.
Her personal view, whatever that may be, simply might not come into play.
Theresa May, the UK's second female prime minister, has previously shown support for the feminist movement, and was famously pictured in a t-shirt with the slogan: "This is what a feminist looks like."
As home secretary, she criticised fellow Tory Dominic Raab for accusing feminists of "obnoxious bigotry" and claiming men had a raw deal in the workplace.
In March, when campaigners for gender equality marched through London, Theresa May tweeted her support, referencing her promise when she promised to be a "bloody difficult woman" to the EU's Jean-Claude Juncker during Brexit talks.
Unlike the rest of the UK, abortion in Northern Ireland is only permitted if a woman's life is at risk or there is a permanent or serious risk to her mental or physical health.
Downing Street is understood to believe that any reform "is an issue for Northern Ireland".
But a Downing Street source said it demonstrated "one of the important reasons we need a functioning executive back up and running".
Northern Ireland has been without a government since January 2017, after a power-sharing deal between the Democratic Unionist Party (DUP) and Sinn Féin collapsed.