World Cup 2018: Meet the only English referee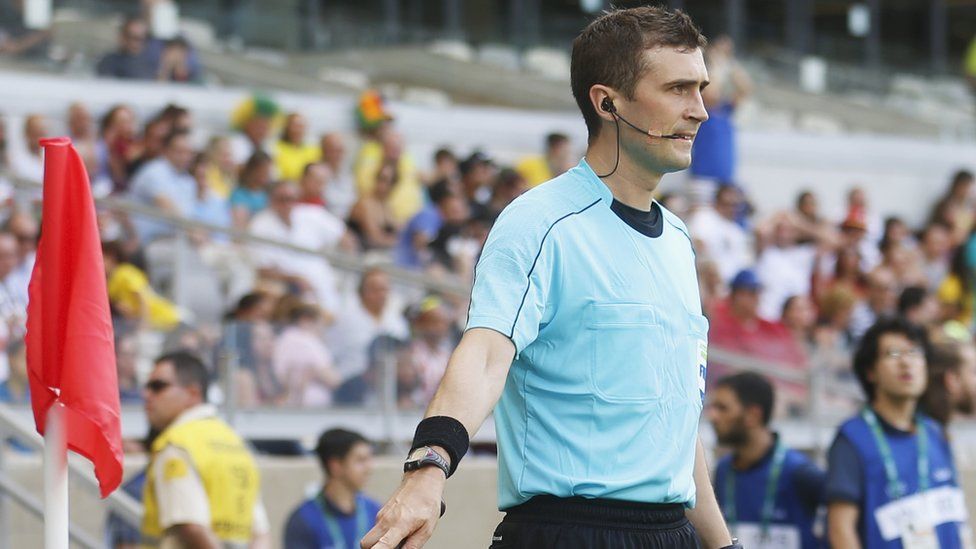 If Simon Lount hadn't got lost 14 years ago, he may not have found himself at the World Cup finals in Russia.
It was 2004 and Simon, then 23, was travelling through Australia and New Zealand.
After spending three days at the Bay of Islands, he dropped his hire car in Auckland and went to find the ferry to Waiheke Island, where he was staying.
The problem was, he couldn't find the terminal. "It was the days before Google maps," he says.
It was dark, it was late, and Simon was thousands of miles from home. And then, as night drew in, he looked up and saw a woman walking a dog.
Simon was born and raised in Thurnby, a village just outside Leicester. His dad died of heart failure when Simon was nine; he and his older brother, Anthony, were brought up by their mum.
He grew up watching football - as a season ticket holder at Leicester City - and playing it, for local side Houghton Rangers and at school.
"I was a centre back," the 36-year-old says. "Not always the most popular with referees."
While studying for A-Levels, he worked part-time at Sainsbury's. "Stacking shelves, fish counter, meat counter, you name it. As much overtime as I could get."
Can he remember how much he earned? "I can actually," he says. "£3.09 an hour."
Simon went to university, studying geography at Portsmouth (while working part-time at Asda), but dropped out in his second year. "I wanted to travel, wanted to start working, wanted to do other stuff," he says.
He went home, worked in sales and marketing with his brother for three years, and then, in 2004, headed for adventure Down Under.
After three months working for Travelodge in Sydney, he travelled round Australia with a friend, then headed south to New Zealand. And that's when he got lost in Auckland.
"I saw this girl coming towards me, walking a dog," he says. "I stopped her and said 'Excuse me, do you know the way to the ferry terminal?'
"She said 'It's this way - but you won't get the next ferry. You'll have to wait until 10 o'clock [for the next one].' I thought, 'Oh well, there's nothing else I can do.'
"I walked off and thought: 'She was very nice.' Within a minute, she had turned up next to me in her car - she felt really bad leaving this poor, vulnerable, simple English fellow walking the streets of Auckland in the dark!"
Before being dropped off, Simon asked for her number. He and Sarah started dating, and were married the following year.
"I made the ferry and got a wife at the same time," he says.
Before meeting Sarah, Simon's plan was to head back to Sydney for Christmas 2004, then return to England.
Instead, he stayed in New Zealand for Christmas, and went back to England for 10 days in January. He got his visas, then broke the news to his mum: sorry, I'm moving to the other side of the world.
"She was pretty shocked," he says. "But happy at the same time."
Simon was already a qualified referee - he did the course as part of his Duke of Edinburgh Award scheme in England - but hadn't refereed a senior game. While playing local football in New Zealand, Sarah suggested he started again.
He refereed 70 matches in his first year, earning $25 or $26 a time (around £13). He was noticed by assessors and, by the end of that first season, was refereeing the top division's reserve team games.
In 2008, he became a linesman - also known as an assistant referee - in the country's top division. After two seasons, he had a trial game to become a referee in the same league. He was a very good referee, he was told, but a better linesman.
"No-one watches refereeing and thinks, 'I would love to run up and down that line with a flag in my hand,'" admits Simon.
"People get into refereeing to be in the middle. To be part of the game, up close and personal, making the decisions. I was no different."
But even in 2010, Simon was thinking about the World Cup in Russia. He had more chance of making it as a linesman, so he made the call - he would focus on that.
Sadly, calling offsides doesn't pay the bills.
In New Zealand - and almost every other country - referees and their assistants are not full-time. They earn modest amounts, and must balance refereeing with "normal" jobs.
Since 2005, Simon has worked for Hafele, which supplies furniture fittings and architectural hardware. The company is "unbelievably supportive", and he can work remotely. But, he says, it is "very, very hard" having two careers.
"You ask any referee around the world," he says. "For the guys in England [Premier League referees are full-time] it is their profession. For me, my profession was working for my company."
Simon and Sarah also had a growing family, with their second son born in July 2012. Six weeks before, Simon was 2,000 miles away in the Solomon Islands, officiating at the Oceania equivalent of the European Championships.
Was he worried about missing the birth? "It wasn't touch and go," he says. "But it was getting to that stage."
As Simon's reputation grew, so did his air miles. After the Solomon Islands, his tournaments included the Rio Olympics in 2016, and the Under-20 World Cup in South Korea a year later.
Simon was part of a refereeing "team", alongside New Zealand referee Matthew Conger, and fellow linesman Tevita Makasini from Tonga. In order to build understanding, they worked the same matches.
In November last year, Conger learned he had been selected for the World Cup - but that didn't mean his assistants were.
Referees can be picked with their team, or on their own. In March, Simon was in a hotel room in New Zealand, after a work function, when he got a missed call from Conger, who was in the US (where he is from).
Simon checked his e-mail and saw the news - he had earned a spot at the World Cup.
"I was sharing a room [with a colleague]," he says. "I just rolled over and said 'Oh mate - I've got it! I've got it!"
Although Simon has a British passport, and retains a semi-English accent, he is a New Zealand citizen. "It's where my children were born, it's where my wife's from, it's home," he says.
And while New Zealand didn't qualify, he doesn't expect to get any England games, either. This, after all, is a man who remembers cheering on Paul Gascoigne and company in the 1990 World Cup.
Simon arrived in Russia on Sunday, after a work trip to Germany. The training is hard, the pressure is huge, but he's thrilled to be there.
"It's been a long journey, a lot of tournaments, a lot of training," he says. "But this was the ultimate goal."
It's a long way from the fish counter at Sainsbury's, isn't it? "It certainly is," he says.
How different it could have been, if, 14 years ago, he had found the ferry terminal first time round.