Khalid Ali: Trial shown video of London arrest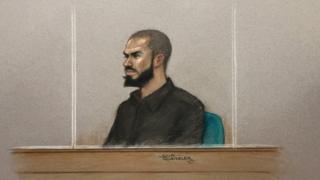 An Old Bailey jury has been shown a video of the moment an alleged Taliban bombmaker was arrested in Westminster by armed police.
Prosecutors claim Khalid Ali, 28, was intercepted while on his way to carry out a terror attack on 27 April 2017.
Mr Ali, from Edmonton in north London, denies preparing acts of terrorism and two counts of possessing an explosive substance with intent.
Two knives were found in his jacket and one in his trousers, the court heard.
The footage showed firearms officers move in as Mr Ali stood on a busy pedestrian crossing on Parliament Street.
CCTV footage from earlier that day showed him buying the knives at a Wilko store in west London and then travelling to Westminster via the underground network.
After Mr Ali arrived in Parliament Square, video played to jurors showed him walking towards the River Thames, depositing a mobile phone in the river, and then heading towards Whitehall - at which point the armed officers intervened.
The prosecution alleged that footage from five days earlier - which showed Mr Ali near sites including the MI6 building in Vauxhall and Downing Street - was evidence of "hostile reconnaissance" by the defendant.
Jurors have been told that Mr Ali's arrest took place only weeks after Khalid Masood murdered five people - including PC Keith Palmer - in a terror attack on Westminster in March last year.
Prosecutors claim that in 2011 Mr Ali made his way to Afghanistan and joined the Taliban, becoming a bombmaker and leaving his fingerprints on component parts of explosive devices that were handed into US forces in the country in 2012.
He returned to the UK in November 2016 - less than six months before his arrest.
The trial continues.