Military boss defends RAF bombings of IS
By Jonathan Beale
Defence correspondent, BBC News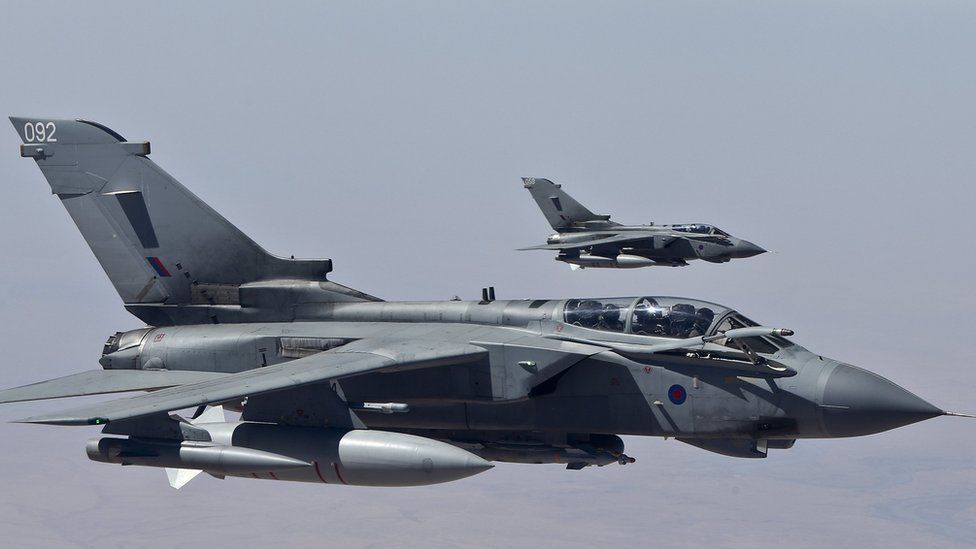 Britain's top military officer has defended RAF bombing of the so-called Islamic State (IS).
Air Chief Marshal Sir Stuart Peach said IS was a "really wicked and evil enemy" that used civilians as human shields.
He said the RAF had carried out "the most carefully planned air campaign in history" and was "meticulous" in trying to avoid civilian casualties.
Amnesty International has criticised the UK for its role in attacks on the Syrian city of Raqqa.
But Air Chief Marshal Peach, who earlier in his career served as a navigator in a Tornado jet, does not accept the charge.
He said any allegation of civilian harm, with evidence of time and place, was properly investigated.
He has overseen the battle against IS as chief of the defence staff for the past two years. Next week he moves to Brussels to take on a new job as chairman of Nato's Military Committee - providing advice to secretary general Jens Stoltenberg.
In a valedictory interview with BBC News, Air Chief Marshal Peach highlighted some of the challenges he has faced as the most senior British military officer, including recruitment.
He suggested that part of the problem was an "unfortunate characterisation" of how the armed forces were often portrayed.
"We're not all heroes and we're certainly not all victims", he said, adding that the vast majority who served were "enriched" by their life in uniform.
His own origins are humble - as the son of an Army sergeant major. Educated in a state grammar school, he was the first in his family to go to university and describes the RAF as a meritocracy with a long history of taking people from disadvantaged backgrounds.
But he acknowledged the military still had "a problem" with few women in senior posts. They now make up 10.4% of the regular armed forces - but just 3.4% of senior officers are women.
Air Chief Marshal Peach said that was being addressed with all branches of the armed forces opened up to them, including infantry roles, as well as more flexible working patterns.
He said he was "very confident" that in the next 10 to 20 years there would be a female chief of the defence staff.
Another potential stumbling block to recruitment and retention has been the shadow of potential legal action against serving and former military personnel involved in past conflicts - from Northern Ireland to Iraq and Afghanistan.
Air Chief Marshal Peach said he was "very uncomfortable" about these historic allegations.
Some MPs have called for a statute of limitations to protect veterans who might be accused of past abuses but the defence staff chief said that was a "political call, not a military one".
The next chief of the defence staff, General Sir Nicholas Carter, has been left with another big challenge and that is the funding of the armed forces.
Defence Secretary Gavin Williamson is making the case for a rise in defence spending at a time of rising threats.
He says "Russia is a concern" - that concern will occupy his mind as he moves on to his new job in Brussels. It's the Nato alliance, he says, that provides collective security for Britain.