Pippa Middleton confirms pregnancy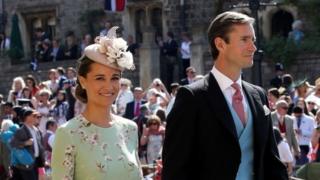 Pippa Middleton has confirmed she is expecting her first child with husband James Matthews.
The Duchess of Cambridge's sister announced the news in her fitness column for Waitrose Weekend magazine.
Ms Middleton, 34, said keeping the news secret had been "hard".
She also revealed she had passed through the first trimester without experiencing the severe morning sickness her older sister had with her three pregnancies.
"I was lucky to pass the 12-week scan without suffering from morning sickness," she said.
"That meant I was able to carry as normal and continue my sports."
In the article, titled "Exercising during pregnancy", Ms Middleton shared tips and fitness routines for continuing fitness throughout pregnancy.
"I've noticed my body change but through exercise I feel it's being strengthened," she wrote, assuring readers they would be kept up to date in the coming months.
"Who knows what the next few weeks have in store," she said.
Ms Middleton married hedge fund manager James in May 2017 in a wedding attended by celebrities and royalty.
Speculation that Ms Middleton had told friends of her pregnancy began in April, shortly before the Duchess of Cambridge gave birth to her third child, Prince Louis.
Her sister, the Duchess of Cambridge, suffered from hyperemesis gravidarum during her pregnancies.
The condition causes severe vomiting, dehydration and weight loss.
The illness led to her being admitted to hospital, cancelling engagements and missing Prince George's first day of school.