Grenfell housing: Finding a new home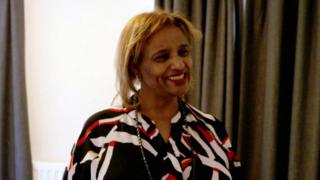 In the aftermath of the Grenfell Tower fire a year ago, a series of promises were made to the survivors, especially concerning rehousing. Have they been delivered?
"In this property I might feel lonely, but that's life. We have to move on. There is no other way of doing this," says Alemishet Demissie, 70, who lived alone on the 12th floor of Grenfell Tower.
Since her home was destroyed, she has lived between hotels and temporary flats, but the BBC's Victoria Derbyshire programme joined her as she moved into a permanent property.
"I'm happy - I can't ask for more, considering the situation," she says.
After the fire, the government made two separate promises to the displaced residents, who had been living in 138 of the flats in the tower and the adjacent Grenfell Walk.
The Prime Minister, Theresa May, promised they would be rehoused within three weeks of the fire.
And by 5 July, three weeks after the fire, all of those 138 households that wanted contact with the council had been offered temporary accommodation - but only nine of these offers, of an interim flat or house, had been accepted, with most families still living in hotel rooms.
The second promise, made by Housing Minister Alok Sharma, was that the council, the Royal Borough of Kensington and Chelsea (RBKC), would provide the residents of the 138 flats with a permanent home within a year.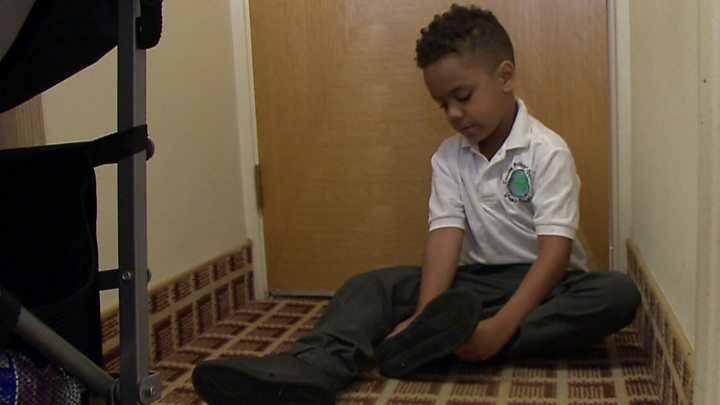 And as of 13 June, 364 days after the fire, the council has committed over £235m to secure 307 homes, most but not all of which has now been spent.
The survivors, who lived in 138 of the flats in the tower and the adjacent Grenfell Walk, have now split into 203 households - 116 from the tower and 22 from the walk.
Some of the original households living in the tower contained multiple generations, for example grandparents and grown-up children, who are now being given the opportunity to have homes of their own.
The council says it has committed to securing 307 homes to provide the 203 households with a choice of properties.
As of 13 June, according to the Royal Borough of Kensington and Chelsea:
the council has made a total of 971 offers of some kind of accommodation to the 203 households
198 of the 203 have now accepted an offer of a home
135 of these have moved in - 52 into an temporary home, 83 into a permanent home
68 households from Grenfell Tower and Walk are still living in emergency accommodation - of these, 42 are in hotels, 22 are in serviced apartments and four are staying with family or friends
90 households from the surrounding estate - but not the tower or Grenfell Walk - are also still living in emergency or temporary accommodation, prior to moving back to their original homes
Many of the 203 households that have accepted an offer of a new home say they have been waiting for refurbishment to be completed before they can move in.
Match expectations
Antonio Roncolato lived on the 10th floor of Grenfell Tower with his 27-year-old son, Chris. Since the fire, he has lived in two hotels and, now, a temporary flat. Chris is being rehoused separately.
"It's a beautiful house, but it's not my flat. It doesn't reflect my identity, my way of being," Antonio says of his current home. "It's nicely decorated, but it is not my personal home like I had in Grenfell Tower."
Over the past year, Antonio, who was aged 57 at the time of the fire, has turned down six offers of permanent accommodation from the council.
When asked whether he was worried that people might lose sympathy with survivors turning down offers of permanent accommodation, he said he had shown interest in various properties but "only a few would match what they would call my 'descriptions'".
"I'm entitled to a two-bedroom flat, with a kitchen and a bathroom," he says.
"Moving a property for the rest of your life, it's not buying a car or a motorbike, where you think you'll keep it for three or four years and replace it.
"So, I have to have a feeling that, 'Yes, this is it.'"
Antonio has turned down flats on the top floors of blocks with no lifts and one because he felt the kitchen was too small with no connection for a washing machine.
While praising the council employees on the ground, he criticises its leadership.
"I never asked for promises," he says. "It is unprecedented. It is very difficult."
But, Antonio adds: "We need to wait as long as it takes for me to find the right accommodation, because they kept on promising things and they cannot [deliver], so what trust can I have?"
'Dire shortage'
Polly Neate, chief executive of housing charity Shelter, says the fact so many people are still living in emergency or temporary accommodation is "disgraceful" but a symptom of the fact there is simply not enough housing available.
"It isn't really true to say that the council haven't made any effort to rehouse people," she says.
"It also isn't true to say that the former residents of Grenfell are being fussier than they should be in any way.
"There is a dire shortage of housing. And if that teaches us anything, it's that we need to be building more housing."
Council leader Elizabeth Campbell said: "The families involved are not statistics that need to be moved around a balance sheet. So, we will no longer set deadlines. They are not required.
"What is required is understanding, support, and above all a willingness to do everything we can to help - no matter how large or small the task."
A spokesman for the Ministry for Housing, Communities and Local Government said: "Ministers have been clear that the council must work quickly to rehouse survivors. And we expect them to do whatever is necessary to ensure people can move into settled homes as swiftly as possible."
Meanwhile, as she unpacks her belongings, Ms Demissie says: "We've all been through a lot, but there's no point in thinking about the past - better to aim for a positive future."
Watch the BBC's Victoria Derbyshire programme on weekdays between 09:00 and 11:00 on BBC Two and the BBC News channel in the UK.