Banned neo-Nazi group National Action 'kept meeting'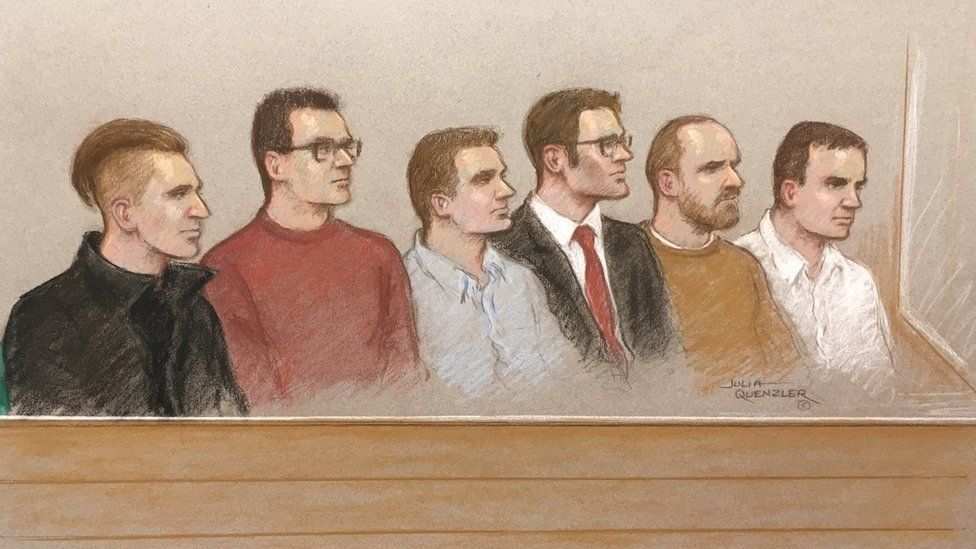 Members of a neo-Nazi organisation kept meeting after the group was banned, a former member has told a court.
Six men deny being members of National Action after it was proscribed between December 2016 and September 2017.
Witness Robbie Mullen, 25, who became a whistleblower, said the group continued physically training for a race war.
The Old Bailey has heard that it was Mr Mullen who first warned the anti-racism charity Hope not Hate of a plan to kill a Labour MP as part of a "white jihad".
Under cross examination at the Old Bailey, Mr Mullen denied that his reasons for contacting the charity were in order to feel important or to make money.
Jack Renshaw, 23, of Skelmersdale, Lancashire, has pleaded guilty to preparing an act of terrorism by buying a machete to kill the West Lancashire MP Rosie Cooper.
He has also admitted making a threat to kill police officer Victoria Henderson, who was investigating him for child sex offences and inciting racial hatred.
Jurors have heard Mr Mullen had become so disenchanted with National Action that he began talking secretly to Hope not Hate in April 2017.
Wayne Jackson, representing Renshaw, said Mr Mullen had seen a way to "make some money" from Hope not Hate by "convincing them National Action still existed".
Cross-examining Mr Mullen, Mr Jackson said: "Did you big up the info you provided to Hope not Hate just to impress them?"
Mr Mullen said no - and when it was put to him that National Action had ceased existence upon proscription, he said the name had vanished but "the members were all together".
The witness, who now works for Hope not Hate, told jurors "there was no improvement in my income" and "I'd rather be working my old job" in a warehouse.
He denied that going to the charity was an attempt to feel important after his National Action role had finished when the group was outlawed.
Mr Mullen said he had been "fully involved" and "obsessed" with National Action, but it had eventually become "painful" to be with other members although he had "liked some of the people".
He said he went to Hope not Hate "to get out fully" and worried about calling police after hearing about Renshaw's plan in case they arrested him for membership of the group.
Under cross-examination by Crispin Aylett QC, who is representing the group's alleged leader Christopher Lythgoe, 32, from Warrington, Mr Mullen accepted that National Action in north-west England had stopped overt campaigning after the ban.
But, after proscription, the local members had still engaged in "meetings and training," Mr Mullen said.
Mr Aylett said this activity was "just some blokes with extreme views meeting up in a pub and doing some boxing together".
The other accused, who all deny being in the group, are: Michal Trubini, 35, from Warrington; Garron Helm, 24, from Seaforth, Merseyside; Andrew Clarke, 33, from Prescot in Merseyside; and Matthew Hankinson, 24, from Newton-le-Willows, Merseyside.
Mr Lythgoe also denies encouragement to murder for allegedly giving Renshaw permission to kill Labour MP Ms Cooper on behalf of the group.