Pride clothing made in countries where being gay is illegal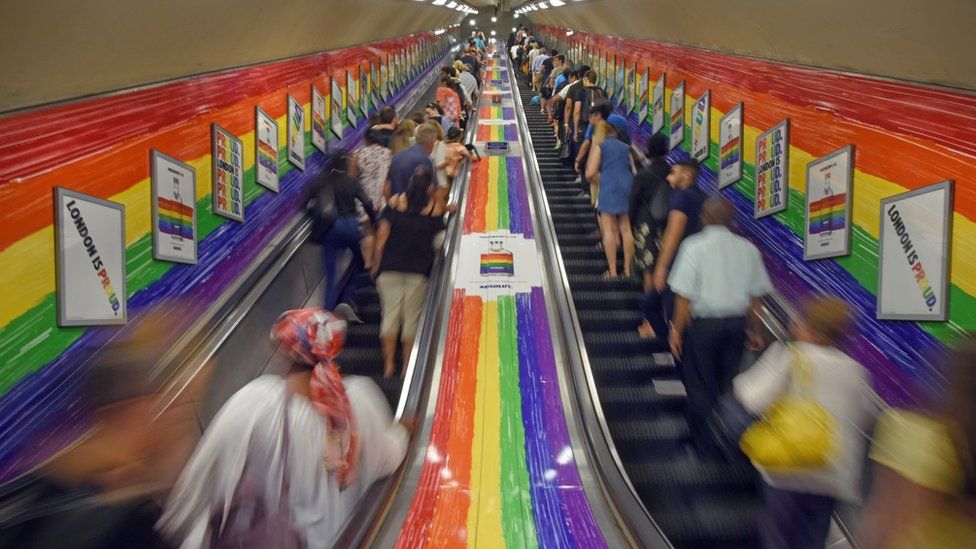 The gay pride clothing range of fashion retailers H&M and Levi's is partly made in countries where homosexuality is illegal, BBC Newsnight has found.
Some of H&M's Pride range - which includes t-shirts, bags and caps - are made in Bangladesh, where homosexuality is punishable with life imprisonment.
Levi's Pride collection of t-shirts and jackets are made partly in India, where it is also illegal to be gay.
Both companies said they donated to organisations that promote LGBT rights.
Last month, Primark came under fire after releasing a Pride collection partly made in Myanmar - where homosexuality is banned.
Now it has emerged that high street chain H&M makes some of its Pride garments in Bangladesh, where gay activists are targeted. In 2016 a gay rights activist and his friend were murdered by Islamist extremists.
H&M items from its Pride range are also manufactured in Turkey and China - countries where homosexuality is legal but where activists says gay people suffer homophobia.
H&M said 10% of the sale price from the H&M's Love For All collection will be donated to the UN's Free & Equal campaign.
Levi's told the BBC they have donated to a charity in India that campaigns to reverse the current ban in the country on homosexuality.
Newsnight also found other firms' Pride collections are made in places where LGBT communities face discrimination - including Disney's Pride collection, which is made in China.
Meanwhile, other companies approached did not reveal the sourcing of their Pride collections.
Nike's BeTrue range came out last month. However, the company has refused to tell Newsnight where the range was made.
Adidas has brought out Pride Running Shoes. The organisation has not disclosed to the BBC where they are manufactured.
Several companies make their Pride range in countries where there are no laws that outlaw homosexuality.
Apple's rainbow watch strap is made in Japan. Burberry's Rainbow Legacy range is made in Italy and Scotland.
Steve Taylor, director of EuroPride, an umbrella group for European Pride organisers, criticised H&M and Levi's for manufacturing products in countries where homosexuality is not allowed.
"They shouldn't be making these products in countries where LGBT equality isn't a reality," he said.
"It's a bit of a smack in the face for somebody who goes to work every day, printing Pride on a t-shirt, but if they were to wear that to walk down the street they would probably be killed."
The UN Human Rights Office of the High Commissioner said they were not aware of where H&M's collection had been manufactured - but that it did not affect its partnership with the shop.
"I think they're embarrassed," said Andy Train, co-chair of the UK Pride Organisers Network.
"The information is out there, they just need to probe a little bit deeper and think hard before they enter into these agreements.
"It's easy to fly a rainbow flag, or to rebrand with a rainbow going through their logo on social media. Pride event organisers will be asking questions."
The gay rights charity Stonewall - which gets 20% of the sale price of Primark's Acceptance without Exception collection - defended the decision to partner with the company.
A spokesperson from Stonewall said: "This partnership with Primark will support our international programmes, which over the past 12 months have supported nearly 100 activists from across Eastern Europe, Central Asia, the Caucasus and South Africa."
You can watch Newsnight weekdays at 22:30 on BBC Two.