World Cup 2018: 'Phil Neville has broken the BBC'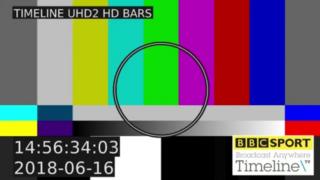 Football pundit Phil Neville has been, jokingly, accused of breaking the BBC.
Neville was about to give his views on the use of VAR technology following France's 2-1 World Cup win over Australia when the television feed went down for several seconds.
Football writers and fans were quick to pounce on the irony on social media, with roughly 5,000 tweets in the first half hour after the incident.
A BBC spokesman confirmed there had been a technical issue.
As Gerry McCulloch, head of digital media for Celtic Football Club, pointed out: "Technological fault interrupts BBC analysis of football technology."
"Phil Neville has broken the BBC," tweeted Kristian Walsh of the Liverpool Echo.
"Fair play for pulling the plug," tweeted @wayneleedsfan in reply to a post by Match of the Day.
Before being cut off, Neville, the former Manchester United and Everton defender, said of VAR: "I don't like it. I've not liked it from day one."
He also disagreed with the VAR decision to award France a penalty.
You may also like:
However, before the match former Ivory Coast and Chelsea striker Didier Drogba tweeted how happy he was to be alongside Neville, the head coach of the England women's team, in the studio.
By the BBC's UGC and Social News team