Cabin Pressure: The sitcom that broke records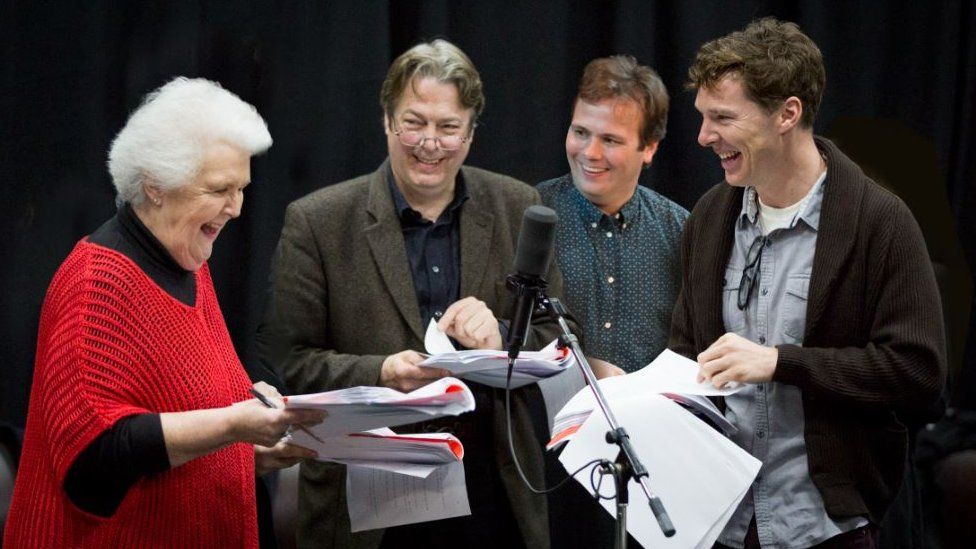 It has won numerous awards, broken BBC Radio 4 records, launched the career of "a once in a generation writer" and spawned a devoted, international fan base with a particular enthusiasm for travelling lemons and otter storage dilemmas.
It's the BBC Radio 4 sitcom Cabin Pressure - which for 10 years has chronicled life at a tiny (fictional) charter airline.
But it is also a programme that very nearly didn't get made.
Comedian and writer John Finnemore was tutoring and occasionally writing for sketch shows when he passed his pilot Cabin Pressure script to comedy producer David Tyler.
"I immediately had a visceral feeling of wow," remembers Tyler, 10 years on. "I thought - this is perfect."
Caroline Raphael, then commissioning editor for comedy at BBC Radio 4, agreed: "I absolutely adored it."
But it wasn't a universal reaction: Mark Damazer, Radio 4's controller at the time, didn't like the script.
"I was quite taken aback because he just didn't get it," Raphael says.
"I just went on and on trying to convince him but realised I wasn't winning him round."
A disappointed Tyler was about to pass on the rejection to Finnemore, but decided to go back to the radio bosses one last time.
"I said: 'I know comedy is subjective and we're all juggling with air but he [Damazer] is wrong'."
Raphael was similarly disappointed with the decision so tried, once again, to plead Cabin Pressure's case.
"We don't have many sitcoms with such beautifully defined characters. Please, can we do it?" she said.
The combined approach worked.
"Oh, go on then," replied Damazer, who said he trusted Tyler's judgement so was happy to reconsider.
Tyler says Cabin Pressure is about "growing up".
For Finnemore, the sitcom is about "leaving home".
At its simplest the sitcom concerns the (mis)adventures of two pilots, a steward and the CEO of MJN Air - a tiny charter airline with just one plane, nicknamed "Gerti" - almost a character in herself.
As the owner puts it, MJN isn't an airline so much as but an "airdot": "I don't have an airline. I have one jet. You cannot put one jet in a line."
MJN's boss is the fearsome Carolyn Knapp-Shappey (Stephanie Cole), awarded a passenger plane in her divorce, and determined to make it work as a business.
One of the few times Carolyn's formidable facade cracked was when another character asked why - given that trying to run an airline was taking her to the edge of bankruptcy - she persevered.
"Because I am the chief executive officer of MJN Air," she said. "It's a good thing to be. It's better than... a little old lady."
Helping her in the endeavour is her son Arthur Shappey - played by Finnemore himself as a consistently cheery steward who claims to have found the secret to true happiness. (For anyone interested, it is throwing an apple from one hand to the other.)
The pilots are charming, experienced, always-scheming Douglas Richardson, played by Roger Allam, and Martin Crieff - played by Benedict Cumberbatch - who wanted to fly since the age of six, but never seemed very good at it.
Much to Douglas' (suppressed) irritation and everyone else's surprise, it is Martin who, for reasons revealed during the series, captains the plane, while Douglas is his junior.
This disparity in the pilots' abilities and their positions forms one of the central tensions in the sitcom.
The other is the business's precarious financial position, epitomised in Carolyn's hopeful declaration: "Today's the day we try running MJN as a profitable business rather than a charitable sanctuary for rubbish pilots."
Nicholas Lezard from the Independent called the first episode "flawless", and Nosheen Iqbal of the Guardian praised the show's "impressive cast" describing the script as "packed tight with superb lines".
The programme also proved popular with listeners. For the final recording, Radio 4 received more than 22,000 audience ticket requests - breaking the world record for a BBC radio comedy.
Awards followed: in 2011, 2013 and 2014 the series won comedy.co.uk's best British radio sitcom award, also becoming the first radio programme to win the website's comedy of the year award in 2014.
Finnemore himself has won two Writers' Guild Awards - including one for Cabin Pressure.
"He [Finnemore] is an extraordinary writer," says producer Tyler. "He is once in a generation."
"He writes about genuine emotion and is able to do so many different characters. What I find astonishing about his work is the psychological consistency."
Raphael agrees. "John has the ability to go deep into the character and ask what is the thing that person wants more than anything," she says.
Pondering the writer's capacity to get so thoroughly inside the minds of others, she quoted David Tyler: "Finnemore's a genius but you wouldn't want to live in his head."
Travelling lemons, stolen Talisker
Tyler says one of the underlying themes of the show is that the two pilots, are "very intelligent, highly trained people" who are bored for "most of the time".
"So they muck about," he added.
The pair's diversions have included playing a high-risk game of hide the lemon, naming the "Brians of Britain" (Eno, Blessed, May etc) and stealing a bottle of Talisker whisky from a passenger on his way to a rugby match.
The quality of the script, plus the relative ease of radio, (no make-up and no learning lines) meant Cabin Pressure was able to attract an impressive cast.
Cole (Waiting for God, Open All Hours, Coronation Street) and Allam (The Thick of It, Endeavour) were already accomplished and experienced TV and film actors.
And when the series began, Cumberbatch, as the hapless and insecure Martin, was on the cusp of stardom.
Although a successful - if largely unknown - actor at the time, his role in the series was very different to that of the arrogant, fiercely intelligent Sherlock he later played in the popular BBC One drama.
Perhaps the casting of a future global film star was one of the factors that helped create the sitcom's loyal female fan base - a trend that the show's creators began to notice between the second and third series.
"After Sherlock the applications for [studio audience] tickets came largely from women under the age of 25," says Finnemore.
And those who worked on Cabin Pressure remember fans gathered outside the studio at 07:00 on cold, misty mornings - not a normal occurrence for a radio sitcom.
But while the presence of the Sherlock actor may have brought listeners in, many say they ended up loving the sitcom on its own merits.
"I usually say that most people came to Cabin Pressure because of Benedict Cumberbatch. But they stayed because of John Finnemore," says Carina Pereira, a fan from Belgium.
While the presence of Cumberbatch may explain some of Cabin Pressure's young following, the character he played may have chimed with them too.
The sitcom's first episode aired in 2008, shortly after the financial crash and as many millennials entered adulthood and encountered a harsh economic climate.
Although Martin was in his thirties, he faced many of their problems.
For those 20-somethings, struggling to carve out a life and career for themselves, his plight may have struck a familiar chord.
To fund Martin's pursuit of the perfect career he had to do odd jobs and live in "a horrible attic in a shared house".
He knew what his dream job was, but in order to get a foot in the door he had to work for free. Essentially he was interning as a pilot.
Kayleigh saw Finnemore perform a sketch at a comedy night, in which he played a comedian worried about not having achieved enough in his life.
"I thought it would be nice if people from all over the world could show their appreciation by taking a picture of a lemon and attaching a message for John," she says.
Kayleigh received so many photos - including one taken near the border of North Korea - that with the help of others, she turned them into a book and presented it to Finnemore at a Cabin Pressure recording.
Despite the programme's popularity, Finnemore says he didn't want to "flog it to death" and, in December 2014, after four series and a Christmas special he brought it to an end.
Finnemore has gone on to further success with his sketch show and half hour radio dramas (John Finnemore's Double Acts). Over the summer he will be writing a film with Armando Iannucci.
However, the programme that made his name is still admired and celebrated.
On fan sites and social media, devotees continue to share pictures of hidden lemons, arrange "Finnemeets", exchange favourite quotes and ponder the feasibility of storing otters in a plane's overhead compartment.
"I've spoken to fans who suffer from depression," says Kayleigh Fitzgerald, "and Cabin Pressure is something that, even for only half an hour, can make them smile."
"That's a lovely thing to do."
The final episode of Cabin Pressure will feature on BBC Radio 4 Extra's Comedy Club on Sunday 15 July at 23:00.