Polish embassy 'funded far-right speakers' at UK event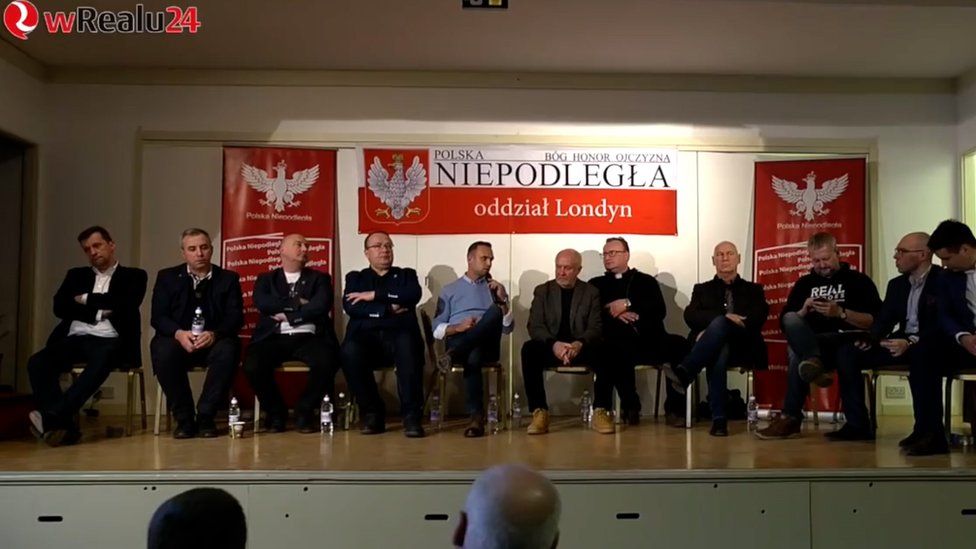 The Polish Embassy in London part-funded an event that gave a platform to right-wing extremists in the UK, a BBC Newsnight investigation has found.
The embassy helped to finance a book fair in Slough in 2017, which included speakers from Poland well-known for promoting hate speech in their country.
Experts have questioned whether such speakers should be allowed into the UK.
The embassy says it funded the event after "appropriate assessment" by Poland's Ministry of Foreign Affairs.
The embassy confirmed to Newsnight that funding it provided to the Slough Book Fair paid for speakers' accommodation in Britain.
One of the speakers at the Slough event was Marcin Rola, who moderated the discussion and runs a far-right online TV station in Poland, Wrealu24, which has more than 140,000 subscribers on YouTube.
In a recent broadcast, Rola told his viewers that Sweden is "top of the league table in terms of rapes by Muslim immigrant-invaders on women. On everyone. On animals, on holes in the fence. Because, well, we all know how they behave".
In the UK, many of Mr Rola's statements would qualify as hate speech. He has told viewers that "in Islam, paedophilia is their daily bread" and refers to Muslims as "savages".
When Newsnight questioned Mr Rola about his rhetoric, he said his comments were "taken out of context".
Although he admitted that calling Muslims "savages" was "quite harsh," he "stood by" his comments, as he said they were in the context of discussing grooming gangs.
The Slough Book Fair was organised by a UK-based chapter of far-right group Polska Niepodlegla.
It was also behind a fun run in February 2017, at which it had hoped to host Jacek Miedlar, a former priest well-known for his anti-Semitic and anti-Muslim rhetoric.
Miedlar was unable to attend the fun run when he was prevented from entering Britain. He was again stopped from coming into the country in June, when he was hoping to attend a Britain First rally in Birmingham.
Asked about the Slough Book Fair, the Polish Embassy told Newsnight that it had funded the event after "an appropriate assessment and receiving acceptance according to the regulations specifying the use of MFA budget funds".
However, Michal Garapich, who has been studying Polish migration in the UK for more than a decade, says that although the membership of far-right groups in the UK is quite small, the ones that exist are feeling stronger.
"There are definitely more Polish Jehovah's Witnesses or Polish members of AA (Alcohol Anonymous) groups than there are far-right nationalists who organise themselves. But they have momentum now.
"They are emboldened, they are more assertive."
Mr Garapich links the new assertiveness of the Polish far right to the change of government in Poland.
He says the ruling party, Law and Justice, gives "nationalist, far right, sometimes fascist groups quite a lot of political oxygen, a lot of exposure, and even access to public funds".
Fiyaz Mughal, from the anti-extremism organisation Faith Matters, says events like the Slough Book Fair form part of an attempt by the far right to gain a foothold among Poles in Britain.
By holding events like book fairs and fun runs, extremist groups "inject their intolerance, their bigotry, and their prejudice into these communities", he added.
"Let's call it what it is. It's a form of radicalisation."
Mr Rola, the moderator of the Slough discussion, came back to the UK in June to attend another edition of the book fair - this time in Leeds.
This one was not funded by the Polish Embassy but was organised by the same group, Polska Niepodlegla.
As soon as he reached arrivals at Luton Airport, he tweeted a photograph captioned: "They didn't even frisk us."
Asked about Mr Rola's case, the Home Office refused to comment.
A spokesman said the government is "taking a comprehensive approach to defeat the scourge of extremism by supporting communities to promote our common values and confront extremism wherever it exists".