Grenfell Inquiry: Firefighter in tears over tower footage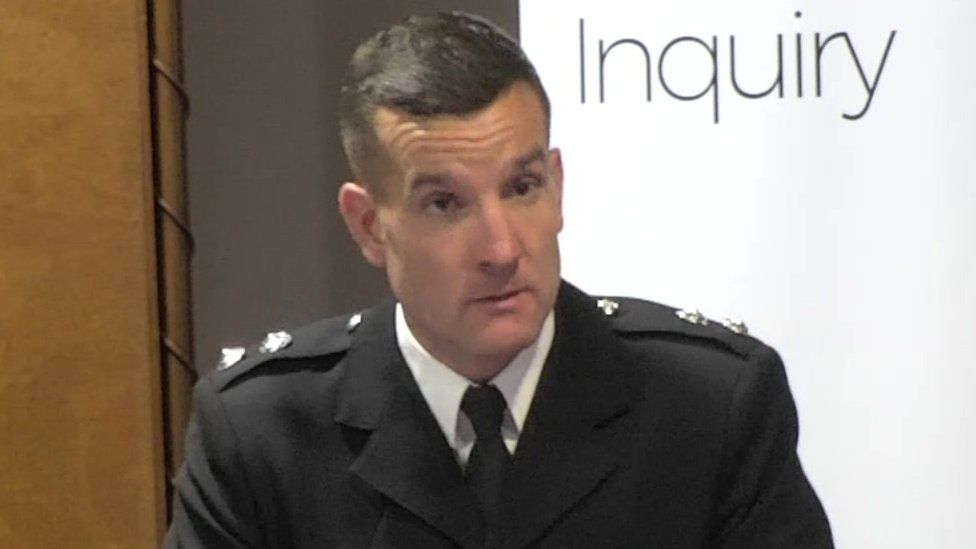 The firefighter who led the initial response to the Grenfell fire broke down in tears after being shown footage of the disaster at the public inquiry.
The video shows people shouting to residents to "get out of the tower" as the blaze spreads.
Recalling that night, Michael Dowden said he had "never seen anything" like it before and had "no previous knowledge" to help his decision-making.
The hearing was suspended for half an hour after he became emotional.
Mr Dowden, watch manager from North Kensington fire station, was the incident commander for about an hour at the fire, which killed 72 people last June.
Giving evidence for a second day, he said he initially believed the fire was contained in flat 16 on the tower's fourth floor.
But he began to feel "uncomfortable" because "the fire was behaving in a way I'd not seen it behave before".
He said it was like a magnesium fire, "sparking and spitting", adding: "That's not something I've seen before."
Mr Dowden, who has been with fire brigade for 14 years, was asked what he thought the material falling from the outside of the building was.
"I didn't know at that point what I know now, in terms of flammable cladding...
"If we were aware of that risk and that hazard at that point as we are now as an organisation we would have put things in place, but I wasn't aware of this cladding material put on to the external envelope of the building."
Mr Millett asked whether, when realising the fire was spreading across the exterior, the fire chief considered an "evacuation".
Mr Dowden said that would have been "impossible".
"I didn't have the resources at that time - we're looking at 20 floors above the fire floor with just six fire engines in attendance, one central staircase."
He added: "At that moment in time, things are rapidly developing and it is a very, very dynamic situation. I wasn't aware what was happening internally in the building.
"I have never seen anything like that but it was almost like I was consumed by that because of the sensory overload."
The inquiry has heard the blaze was spread by the building's exterior cladding which Mr Dowden said he did not see when he arrived at the scene.