Grenfell inquiry: Firefighter 'did not consider evacuation'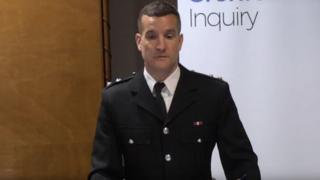 The firefighter who led the initial response to the Grenfell fire did not consider evacuating the tower even as residents came out coughing and sooty, a public inquiry has heard.
Watch manager Michael Dowden said his mind was on the crews inside the burning building and he was "consumed" with what was happening externally.
By the time he had called out 15 fire engines, he said he felt "helpless".
A deputy assistant commander would usually oversee a fire of that scale.
Giving evidence for a third day, Mr Dowden, who appeared under considerable strain, said: "I've never operated at that level before.
"I was making decisions to the best of my ability with all good intentions to try to successfully resolve that incident."
Residents were told to "stay put" inside the building when the fire was first reported at 00:54 BST.
It was just under two hours before that guidance was changed and everyone was told to try to leave.
Expert Dr Barbara Lane earlier told the hearing that the "stay put" advice had "effectively failed" within around half an hour of the fire starting.
'Impossible situation'
Mr Dowden, who served as incident commander until 02:00 BST, sent a "persons reported" message to the control room after seeing a man and his son with signs of smoke inhalation coming out of the building, the inquiry heard.
His handwritten note made after the fire was then shown to the hearing. It said: "All my experience now gone out of the window, very daunting moment. I felt helpless."
He was then asked whether on seeing sooty-faced people exiting the building, he considered evacuating the high-rise.
"As an incident commander, the challenge we faced, an almost impossible situation trying to evacuate that building at that time with the resources in attendance," Mr Dowden told the hearing.
"It is something I still search for today."
Richard Millett QC, counsel to the inquiry, apologised before asking his next question as to whether Mr Dowden considered informing the control room about the people coming out of the building so they could change their survival advice to 999 callers inside the tower.
"I have no thought at that moment in time, being witness to what was happening and unfolding in front of me," Mr Dowden said.
"That was a decision I didn't take at this time."
He went on to say that by 01:29 BST, it was apparent the flames had almost reached roof level and he had requested 20 fire engines on the advice of a fellow watch manager.
Asked if he thought it was still safe for 999 operators to tell residents to stay inside, he said: "Everything that I had previously experienced and everything I had understood as an incident command, yes - if a building doesn't fail."
He told the hearing he did not think the internal building had failed, but said "something was happening to the external of that building".
He said at that time he still believed the fire could be beaten, and sent a specialist rescue crew up to roof level to extinguish the blaze from above.
He later found they had not managed to do so.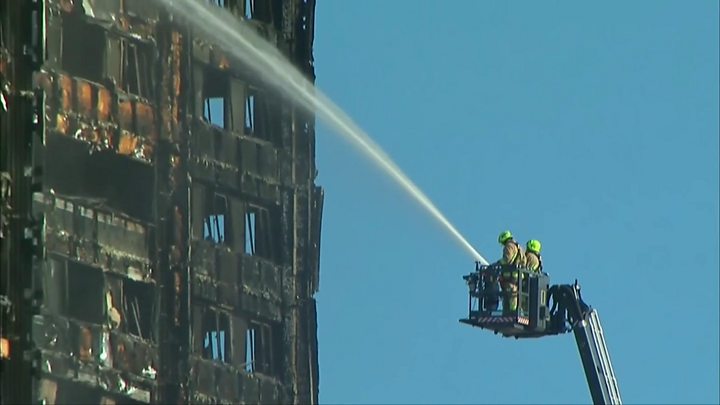 Mr Dowden was questioned on why he did not declare a major incident when the fire reached the top of the building.
"I was just totally consumed by everything that was going on around me," he said.
The inquiry also heard that Mr Dowden did not receive crucial information from firefighters radioing down from the "bridgehead" - a safe air space two floors below the flat on fire.
That night, officers using breathing apparatus were communicating on channel six, while Mr Dowden received messages on channel one, the inquiry heard.
Radios built into breathing apparatus were known to be unreliable, the hearing was told.
Their messages would have told Mr Dowden which floors the fire had spread to, the state of mind of the firefighters and their locations.
The inquiry was also told that the fire chiefs who took over from Mr Dowden at 1:50 BST were led to believe "only the exterior" of the cladding was burning.
Pressed on the details of his handover to deputy assistant commander Andrew O'Loughlin, Mr Dowden said: "Trying to put it into some perspective - I had just been in charge of this incident for an hour.
"I had seen something that most junior officers probably in the UK fire service had never been involved with.
"To try and pinpoint every single bit of information that was handed over at that point is very, very difficult."
On Tuesday, the hearing was briefly suspended after Mr Dowden broke down in tears after footage of the disaster was shown.
The inquiry into last June's fire in west London, which caused 72 deaths, is currently examining what happened on that night.