Prince William meets President Abbas in first West Bank visit by royal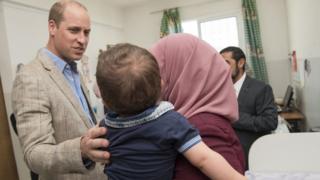 Prince William has expressed hope for "lasting peace" between Israelis and Palestinians during a visit to the occupied West Bank.
The Duke of Cambridge spoke before holding talks with Palestinian President Mahmoud Abbas in Ramallah.
The prince is the first royal family member to make an official visit to the Palestinian Territories.
In Israel on Tuesday, President Reuven Rivlin urged him to take a "message of peace" to Mr Abbas.
Mr Abbas told the prince that "the Palestinian side is committed to the peace process with the Israelis".
Prince William said: "I'm very glad that our two countries work so closely together and have had success stories with education and relief work in the past. So, long may that continue. My sentiment's the same as yours in hoping there's a lasting peace for the region."
The Duke of Cambridge, who started his Middle East tour in Jordan on Sunday, also visited a refugee camp and toured a market in Ramallah.
At the UN-run Jalazone refugee camp, Prince William spoke with a group of mothers having their young babies vaccinated and staff involved in the health programme.
He later attended a cultural event in Ramallah featuring Palestinian dancers and met young footballers - and had a kick around the training ground himself, like he did at a youth event in Jaffa on Tuesday.
In his comments to Prince William, Mr Abbas also reiterated his commitment to a two-state solution and said his visit would "deepen and strengthen" the ties between the UK and the Palestinian people.
Mr Rivlin had asked Prince William to tell Mr Abbas: "It is about time that we have to find together the way to... build confidence as a first step to bring to understanding that we have to bring to an end the tragedy between us."
Responding to the request, Britain's ambassador to Israel David Quarrey said Prince William is "very interested in hearing from each side what they think they can do, what they think can be done more generally to move us out of the current situation and move us towards peace.
"We've obviously got a very strong interest in seeing progress from where we are now but I don't think the duke will be taking a particular political message."
On Wednesday morning, Prince William met Israeli Eurovision winner Netta Barzilai in Tel Aviv. He joined her on a walkabout around the city where they discussed mental health and diversity.