'Gay conversion therapy' to be banned as part of LGBT equality plan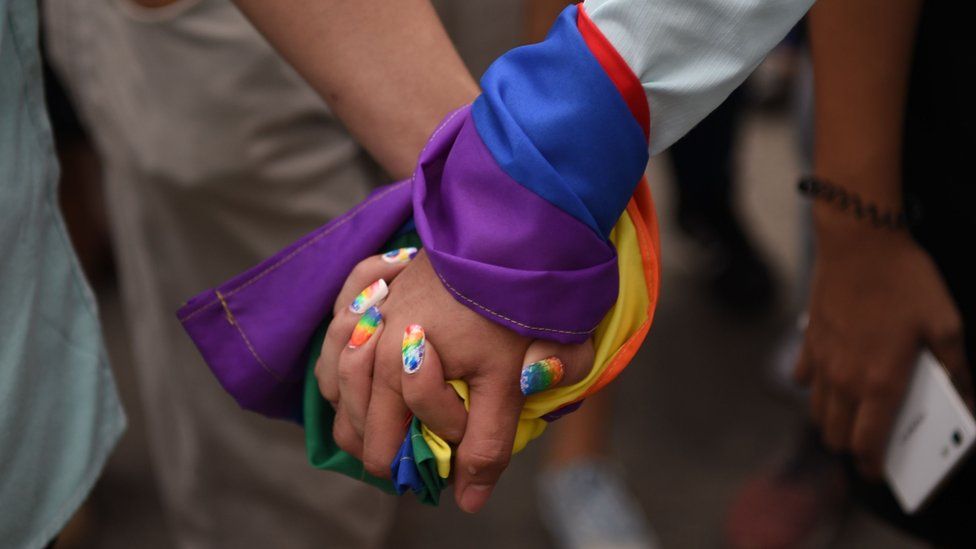 Controversial "gay conversion therapies" are to be banned as part of a government plan to improve the lives of gay and transgender people.
A national survey of 108,000 members of the LGBT community suggested 2% have undergone the practice with another 5% having been offered it.
It also found more than two-thirds of LGBT people avoid holding hands in public, for fear of negative reactions.
The prime minister said nobody "should ever have to hide who they are".
A 75-point plan to improve the lives of LGBT people, costing £4.5m, has been produced in response to the survey.
It includes plans to introduce a national LGBT health adviser, tackle discrimination, improve the response to hate crime and to improve diversity in education institutions.
Theresa May has also launched a 16-week public consultation in England and Wales about the process of gender reassignment after research showed that trans people find it "overly bureaucratic and invasive".
The charity Stonewall said there were still "pockets of society" where the LGBT community was "far from safe".
As part of the plan, it said it would "consider all legislative and non-legislative options to prohibit promoting, offering or conducting conversion therapy".
While the government did not offer a definition of "conversion therapy", its report said it "can range from pseudo-psychological treatments to, in extreme cases, surgical interventions and 'corrective' rape".
Faith organisations were by far the most likely to have carried out the practice, according to the report. It is often either forced on people or they go voluntarily. The NHS does not refer people for it and disagrees with the practice.
Equalities minister Penny Mordaunt told BBC Radio 4's Today programme of the practice: "This is very extreme so-called therapy that is there to try and 'cure' someone from being gay - of course you can't cure someone from being gay. In its most extreme form it can involve corrective rape.
"That's very different from psychological services and counselling. It's pretty unpleasant, some of the results we found, and it shows that there's more action to do."
She said the government is consulting on the best way to implement a ban, adding: "It's absolutely right that that abhorrent practice has to go."
Journalist Patrick Strudwick, who went undercover to expose so-called conversion therapists, said he has "seen, and felt, the damage it does", writing: "Conversion therapy does need to be banned. It is abuse."
He said it would be difficult to do so though, with the government recognising the scale of the issue.
The BBC is not responsible for the content of external sites.
'Lives are in the balance'
Jayne Ozanne, a member of the Church of England's general synod who went through the "therapy", told the BBC's Victoria Derbyshire programme: "I went through this because I believed - as many do - that being gay was sinful."
She added: "The key problem is that it causes great harm. There are many, many young people suffering mental issues, self-harm, suicidal tendencies as a result of this, because they feel so guilty when it doesn't work."
Vicky Beeching sought therapy as a teenager, but the experience led to depression, anxiety, suicidal thoughts and physical health symptoms.
"This is devastating," she said of such practices. "People's lives are literally in the balance."
Dr Louise Theodosiou of the Royal College of Psychiatrists, which "100% backs the ban", told the programme: "There's no evidence base to support this therapy. Your sexuality and your gender ID are inherent and there's no evidence base and no therapeutic treatment to change what is simply part of someone's nature."
By Michelle Roberts, BBC News online health editor
Sometimes called "reparative" or "gay cure" therapy, conversion therapy is a term used for any form of so-called treatment which attempts to change sexual orientation or reduce attraction to others of the same sex.
Experts say the word therapy is misleading because there is no scientific basis for it
Stonewall says that "no one should be told their identity is something that can be cured".
Those identifying as gay or lesbian made up 61% of respondents to the survey, carried out between July and October last year. Just over a quarter identified as bisexual and a small number identified as pansexual (4%) and asexual (2%). People identifying as transgender accounted for 13% of respondents.
A quarter of those who took part in the survey said they were not open at all about being LGBT with family members they lived with.
Of the trans men who took part in the survey, 56% said they had avoided expressing their gender identity for fear of a negative reaction from others.
That figure rose to 59% for trans women and 76% for non-binary respondents.
LGBT hate incidents had been experienced by 40% of people in the survey, with more than nine in 10 of the most serious offences going unreported.
Prime Minister Theresa May said: "We can be proud that the UK is a world leader in advancing LGBT rights, but the overwhelming response to our survey has shone a light on the many areas where we can improve the lives of LGBT people.
"I was struck by just how many respondents said they cannot be open about their sexual orientation or avoid holding hands with their partner in public for fear of a negative reaction.
"No one should ever have to hide who they are or who they love."
Ruth Hunt, chief executive of Stonewall, said she was pleased the government was listening to the LGBT community,.
But she added there was "still a long way to go until we reach full equality".
Campaigner Peter Tatchell welcomed the government trying to ban conversion therapy. But he said the 75 point-plan did not go far enough.
"The biggest fail is the lack of any pledge to end the detention and deportation of LGBT+ refugees fleeing persecution in violently homophobic countries like Uganda, Iran, Russia, Egypt and Jamaica," he said.
"Another big omission is the absence of any commitment to compensate gay and bisexual men who were convicted under past anti-gay laws."