Amesbury Novichok poisoning: What we know so far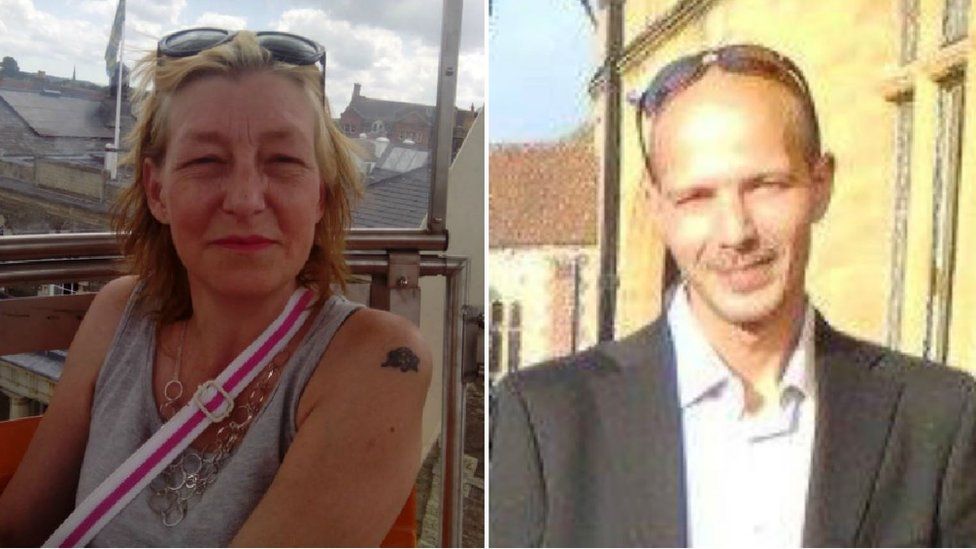 A woman has died and a man spent three weeks in hospital in Wiltshire after being exposed to the nerve agent Novichok.
Dawn Sturgess and Charlie Rowley fell ill at a house in Amesbury, about eight miles from Salisbury, on 30 June.
Police said they were exposed after handling a contaminated container - which is now believed to have been a perfume bottle.
Ms Sturgess died in hospital on 9 July and a murder inquiry has been launched.
Mr Rowley was discharged on 20 July.
The poisoning comes after a Russian former spy and his daughter were poisoned with Novichok in Salisbury in March.
This is what we know so far.
On Saturday 30 June, paramedics were called twice to a flat in Muggleton Road in Amesbury - first at 10:15 BST after Ms Sturgess, 44, collapsed, and again at 18:20 BST after Mr Rowley, 45, also fell ill.
A friend of the couple, Sam Hobson, said Ms Sturgess had appeared to have a fit and was "foaming at the mouth".
When Mr Rowley became ill, he was sweating profusely, dribbling, and his eyes were "red, pinpricked", he said.
Wiltshire Police said it was initially believed the two patients had been using heroin or crack cocaine from a contaminated batch of drugs.
But after more tests, scientists at the UK's military research lab, Porton Down, found the couple had been exposed to the nerve agent Novichok.
Police declared a major incident and counter-terror police are now leading the investigation.
Police say that the pair had a high concentration of Novichok on their hands, and so they believe they handled a contaminated item.
A government scientist told the BBC the item was probably discovered by the couple in a contained space and was so toxic it was able to pass through the skin.
Around 100 detectives from the Counter Terrorism Policing Network are working on the investigation, alongside Wiltshire Police.
Multiple areas in Amesbury and Salisbury have been cordoned off and scientists and forensic teams in protective clothing are searching the sites.
Swabs taken from the sites are being sent to a defence laboratory for testing. The operation could take "weeks or months" to complete, police say.
Two bins have been removed from a cordoned-off area behind shops in Salisbury for analysis.
Detectives are also undertaking precautionary testing of the ambulances used to treat the pair.
Police spoke "briefly" to Mr Rowley after he regained consciousness and will be speaking to him more as he continues his recovery.
Officers are also looking through more than 1,300 hours of CCTV footage.
Russian former spy Sergei Skripal and his daughter Yulia were poisoned in nearby Salisbury on 4 March.
Metropolitan Police Assistant Commissioner Neil Basu, the head of counter-terrorism policing in the UK, said it was "implausible" that the cases were not linked.
Who are the victims and where had they been?
Dawn Sturgess, who died on 8 July, was a mother of three who lived at John Baker House in Salisbury, which offers supported accommodation.
Charlie Rowley is 45 and lives at the flat in Muggleton Road in Amesbury where the couple fell ill.
His brother, Matthew, said: "He's a lovely guy and would do anything for you. He's a sweetheart basically."
He said what had happened was "heartbreaking".
Police said the pair were both at John Baker House at 12:20 BST on 29 June, before visiting a number of shops in Salisbury and heading to Queen Elizabeth Gardens.
They returned to the building at around 16:20 BST, before heading to Amesbury by bus at around 22:30.
Police believe they were there until emergency services were called on Saturday.
Sam Hobson, 29, who also knew the victims, said he spent time with them on Friday and Saturday.
He said after Ms Sturgess fell unconscious and was taken to hospital, he and Mr Rowley went to a chemist in Amesbury to collect a prescription before going to an event at a nearby Baptist church.
The two men returned to the flat and planned to visit the hospital but Mr Rowley "started feeling really hot and sweaty" and "acting all funny", Mr Hobson, 29, said, and an ambulance was called.
Five areas the victims are believed to have visited prior to falling ill have been cordoned off: in Amesbury they are Muggleton Road, Boots pharmacy and the Baptist church, while in Salisbury and John Baker House in Rolleston Street and Queen Elizabeth Gardens are being checked.
What has the government said?
Prime Minister Theresa May said her thoughts were with the victims of the poisoning, adding: "the people of Salisbury and Amesbury have shown incredible resilience".
The government has allocated additional funds to support businesses and "to meet unexpected costs". In total, the region has been given more than £7.5m to help it cope with the Novichok cases.
Home Secretary Sajid Javid said that working out whether there was a connection to the attempted murders of Yulia and Sergei Skripal was "clearly the main line of inquiry".
"We will stand up to the actions that threaten our security," he added.
The government accused Russia of being behind the poisoning of the Skripals in March, which Moscow denied, souring relations between the two countries.
Russia said Mrs May's government was subjecting them "to hell" over the incident in Amesbury.
Russian foreign ministry spokeswoman Maria Zakharova urged police not to be led by the "dirty political game" and said she was confident London would have to apologise to Russia.
What is the health advice?
Public Health England says the risk to the wider public is low, but has urged anyone who may have visited the locations that have been cordoned off by police to wash and clean their clothing and personal items.
Although they said there was "no immediate" danger, anyone who was at the five areas between 22:00 BST on 29 June and 18:30 BST on 30 June should:
Wash the clothing they were wearing
Wipe down personal items like phones and bags with cleansing or baby wipes
Double-bag any items which are dry-clean only
Chief medical officer Sally Davies has also warned those in the area against picking up "any foreign object which could contain liquid or gel".
Lorna Wilkinson, director of nursing at Salisbury NHS Foundation Trust, said Mr Rowley posed no risk to the community after being discharged.