Trump in the UK: The rules around aerial protests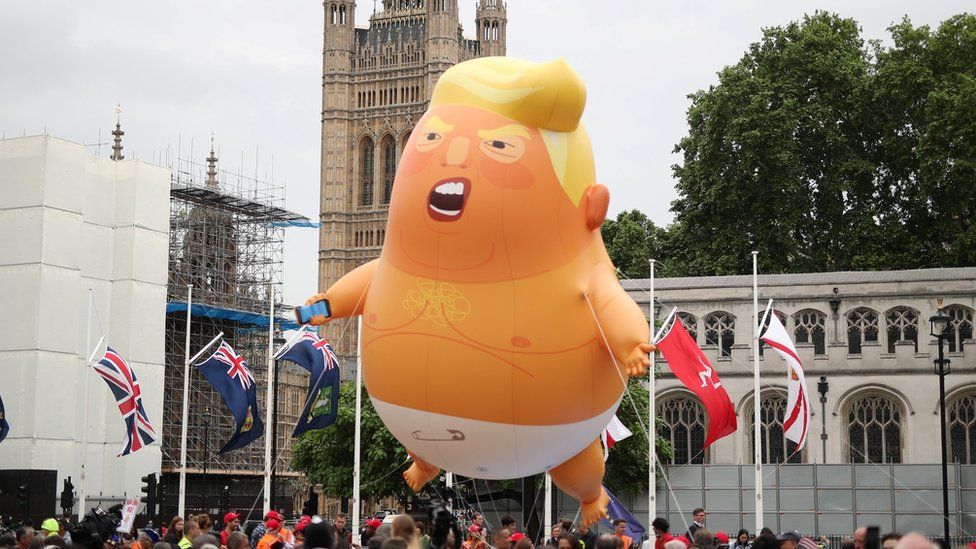 The inflatable depicting Donald Trump as a baby has been flown over Parliament Square again as part of demonstrations against the US president.
Some people say it is a legitimate protest against a US president with controversial policies, while others argue it is disrespectful to a democratically elected ally of the UK with whom the government hopes to agree a free-trade deal.
The protesters got permission for the helium-filled 6m (19.7ft) high balloon to fly again over Parliament Square Gardens. It was cleared by the City Operations Unit at City Hall, where the Mayor of London is based.
The group needed permission from the unit because Parliament Square Gardens is controlled by the Greater London Authority (GLA). You need permission to do a whole range of things there, including holding a public gathering or standing on your own with a placard.
Applicants have to show that they have sufficient insurance and there has to be a full risk assessment.
The GLA told Reality Check that it's not its role to act as a censor, or decide what is or isn't a good protest.
But it says it does work with the Metropolitan Police to reject anything containing illegal content, such as anything racist or homophobic.
The Civil Aviation Authority (CAA) does not need to give its permission because the inflatable has been flying below 60m.
But a CAA spokesperson said: "Anyone flying a tethered balloon below 60m may, however, still require permission from air traffic control if operated within 'controlled airspace', such as over Central London."
The air traffic control provider Nats confirmed that the balloon would count as a non-standard flight in controlled airspace.
Various parts of the country, such as the areas around airports and the centre of London, count as controlled airspace and permission is required if you want to do things like release balloons or lanterns, tether balloons or fly drones.
Nats ruled last summer that the blimp would have no impact on normal air traffic operations. It told Reality Check that it receives many applications to tether balloons or tow banners behind light aircraft over London every year, most of which attract almost no attention from the public.
It stressed that the shape of the balloon or content of the banner was not its responsibility.
Related Internet Links
The BBC is not responsible for the content of external sites.