Prisoners to get phones in cells in bid to curb violence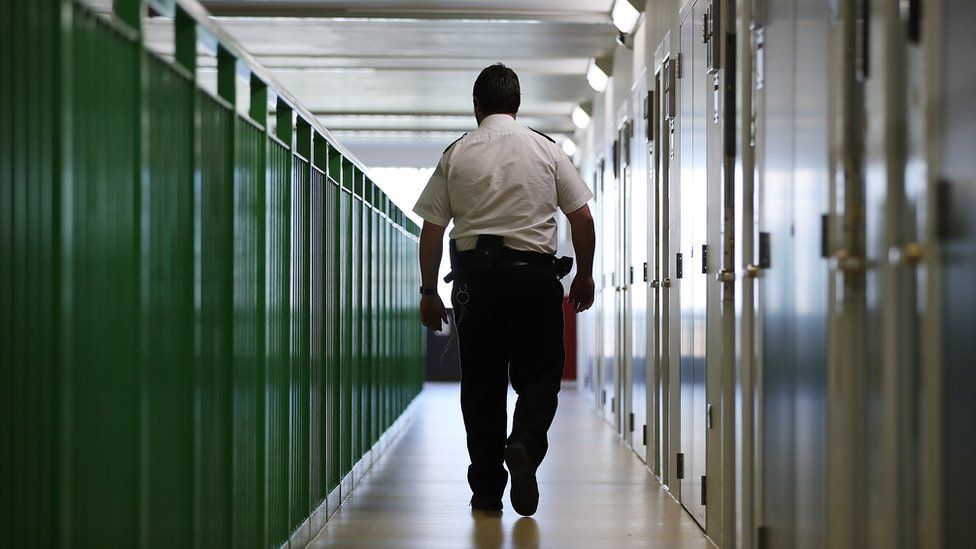 Thousands of prisoners will be able to make calls from their cells, as part of government plans to reduce violence and crime in prisons in England and Wales.
The move is part of a £30m package of measures to be announced later today by Justice Secretary David Gauke.
The scheme, already in place at 20 prisons, is to be extended to a further 20 over the next two years.
Most prisoners currently queue for public phones which can be a trigger for violence, the government said.
It can also fuel the demand for illicit mobile phones, the Ministry of Justice added.
Mr Gauke will make a speech announcing government plans to invest £7m to install in-cell phones, which will be subject to strict security measures.
All calls, which will continue to be paid for by prisoners, will be recorded and they must be to phone numbers on an approved list.
The proposal is based on Lord Farmer's report last year that found good family relationships are "indispensable" to the government's prison reform plans.
Improving prisoners' ability to maintain ties with relatives after they are jailed is seen as a key factor in reducing the reoffending rates.
The government announcement was welcomed by John McLaughlin, director of the privately-run Oakwood in Wolverhampton, which also permits calls from some of its cells.
He said: "Anything that enhances the contact between a prisoner and his family or loved ones is vital.
"I've worked in prisons where telephony is available on the landings, there's a queuing system, people can't get the contact with their loved ones at the appropriate time of day."
As part of the £30m package aimed at improving safety, security and decency in jails, ministers will also unveil a new intelligence system for assessing the risks posed by offenders behind bars.
Every prisoner will be given a "risk rating" according to their chances of taking part in violence, escapes, disturbances and gang activity.
The new digital tool - which compiles data from law enforcement databases and prison incident reports - is being extended across the prison service after a pilot in 16 jails.
It has already identified 12 prolific criminals for transfer to more secure prisons.
About 6,500 prisoners are estimated by authorities to have links to organised crime in England and Wales.
Mr Gauke's announcement comes a day before the publication of the annual report by the chief inspector of prisons.