Donald Trump in the UK: Police chief apologises for officers' sleeping conditions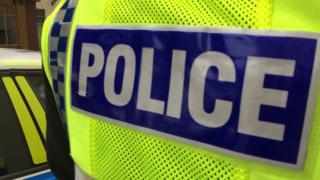 A police chief has apologised after it was revealed some officers deployed to work on the US president's visit had to sleep in conditions described as "an absolute disgrace".
Pictures posted on social media showed rows of camp beds in a gymnasium, to be used for officers after 12-hour shifts policing Donald Trump's visit.
Essex Police's Assistant Chief Constable Pippa Mills has said sorry.
Alternative accommodation has been found for the officers, she added.
The Police Federation had said prisoners in cells would be sleeping in better conditions than its officers when the images came to light, describing the situation as "not acceptable".
Ms Mills apologised to the officers who have come from across the UK to join the operation, estimated to cost up to £10m.
"The conditions which I have been made aware of are not acceptable," she said. "Working with our military partners we have found alternative accommodation.
"This will address the concerns highlighted."
Chairman of the Hampshire Police Federation John Apter said he was pleased to hear the accommodation had changed:
The Police Federation, which represents rank-and-file officers, had voiced concerns about the conditions earlier.
Simon Kempton, the organisation's deputy treasurer in England and Wales, said earlier: "These officers have been asked to leave their families to travel to another part of the country to help protect the public and the president and all they expect in return is to be treated with some dignity and respect."
Labour MP Louise Haigh had raised the issue in the House of Commons, said 100 female officers had just four toilets between them and 300 male officers had just five toilets.
The BBC's home affairs correspondent Danny Shaw said the venue in question was thought to be Colchester Garrison, where about 300 officers had been based.
Those who had "leaked" photographs were said to be being "sought out" and told that "firm action" would be taken.
Thousands of officers are on duty for President Trump's visit, which has prompted one of the biggest-ever police operations seen in the UK.
Mr Trump arrived on Thursday afternoon and will be in the UK for three days.
A spokesman for the National Police Chiefs' Council - the organisation co-ordinating the operation - thanked the officers who "raised this important issue".
He said: "Some of the accommodation pictured today for officers supporting the major operation for the US presidential visit is not acceptable and below the standard of other accommodation for this operation."