The Syrian refugee supporting England with his daughters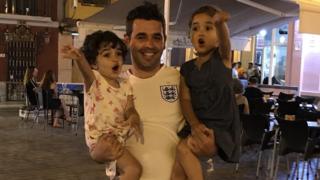 "If you're not talking about football, you're not talking about England."
Growing up in Syria, Ahmad Al-Rashid was always fascinated by the England national football team.
"From an early age I had a passion about England," he says. "I remember the old days with Michael Owen and David Beckham.
"I have a wonderful memory of the goal Beckham scored - the free kick he made in the last minute - it's one of the most beautiful memories I have."
Ahmad's childhood passion for England - both as a football team and a country - led him to read English Literature at the University of Aleppo.
"I studied a lot about England," he said. "The literature and the culture, and football's a big part of it."
The 28-year-old become one of the millions of refugees who migrated to Europe following the turmoil in Syria.
He was featured in a BBC Two documentary in 2015 which captured the migration crisis from the perspective of the refugees themselves.
After being granted asylum in the UK, Ahmad was joined by his daughters who are just two and four years old. They now live in Greater London, where he works.
Football continued to play a prominent role in his life as he managed to achieve a lifelong dream - travelling to Wembley to see England play Germany in November 2017.
"The International Organisation for Migration and the Football Association invited me," he said. "They provided tickets for refugees and migrants.
"I supported England from an early age so it was a dream come true, a wonderful gesture.
"And it was amazing to be welcomed. It made England feel like a home to me. My second home."
Ahmad now wants to share his passion and pride for the Three Lions with his daughters.
And some hardened England fans might say they got their first "real" taste of watching the national team play after defeat to Croatia in the World Cup semi-finals.
"After the match, one of my girls was crying," Ahmad said. "She was asking, 'why did England lose?' The other one was still cheering!
"For my children, these girls, today they associate more with England than Syria.
"I feel so proud. I'm so happy to have been here with them for this World Cup.
"What a wonderful time to be alive with this England team. The diversity of the team, the spirit they have - this is England."
You may also like:
By Tom Gerken, UGC & Social News