World Cup 2018: How Kane, Southgate and Pickford inspired an artist
By Nalini Sivathasan
BBC Asian Network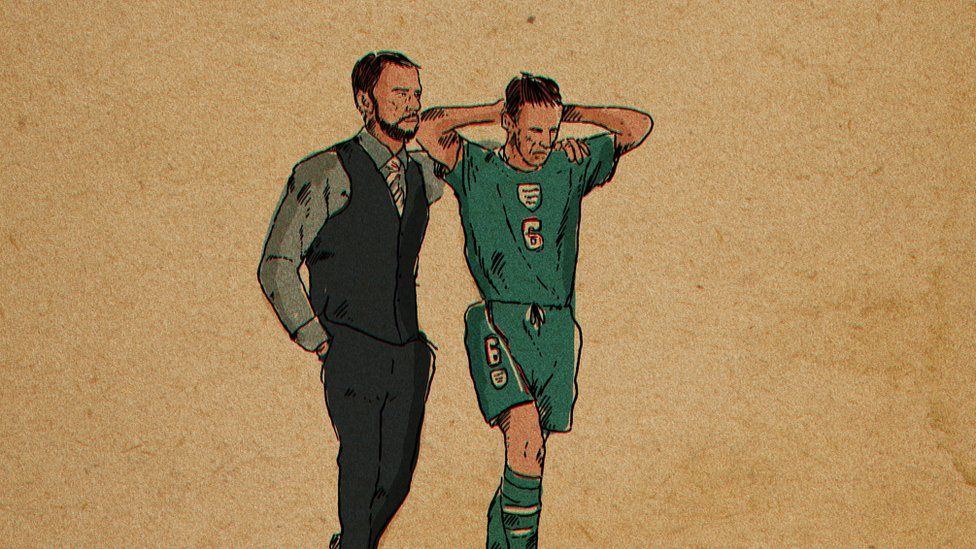 A decade ago, the thought of openly expressing his love for the England football team would have made illustrator Reuben Dangoor feel a bit uncomfortable.
"Football wasn't that pleasant in the past, there were pretty crazy scenes at football matches, the violence, hooliganism - obviously it was only a minority of English fans, but it gave the team a negative association."
Now the London-based artist says it's a different story. His drawings of this year's England squad can be slightly tongue-in-cheek - captain Harry Kane tucking into a plate of Belgian waffles or goalkeeper Jordan Pickford re-imagined as a superhero - but they express his pride in the team.
"The new team are different," Dangoor says. "They're younger and more ethnically diverse. And alongside that, all the baggage previously associated with being an England fan has been lifted."
His illustrations caught the attention of YouTube fan channel Copa90, which commissioned him to produce the World Cup content. He's also been featured on websites such as Mundial and Soccerbible.
His print of Raheem Sterling was one of his more serious pieces. It features the forward in front of the "firing squad of the media", and refers to the scrutiny on him because of the gun tattoo on his leg.
"They've been killing him, assassinating his character," says Dangoor. "He's had a rough ride, and so in my picture I had him blindfolded, arms around his back, caught in all this negative press."
Dangoor's output is impressive, especially considering it's his hobby. The 30-year-old works full-time as a graphic designer but has been producing illustrations every day throughout the tournament.
"It's been a crazy couple of weeks, but over the past few years I've been developing a style where I'm able to respond quickly to events. I look for a punch line in my pieces, a way of distilling an idea."
He's been "stunned" by the response he's received, including from football supporters' clubs and "people who aren't even into football".
His most popular piece has been his Gareth Southgate illustration, with orders for the print sold out on his website. Titled "Redemption", it poignantly shows the England football manager consoling the Euro 96 version of himself after he missed a penalty against Germany.
"There's a certain romance in football - the human element people can relate to. With Southgate there was a circularity. He was traumatised after that penalty but then he returned to win a penalty shootout. Even if you're not into sport, you can appreciate the journey.
"I woke up the morning after the Colombia game with the idea for that piece fully formed. It only took me 20 minutes to do."
Many fans of grime music will be aware of Dangoor's work. A few years ago he produced a series of digital portraits called "Legends of the Scene", reimagining some of his grime heroes, such Wiley, Skepta and Giggs, as members of the 17th century British nobility.
While these images are thematically very different to his World Cup pictures, Dangoor says they all depict modern Britain and a more inclusive form of patriotism.
"You've got Skepta carrying a Union Jack on a horse in one of my pieces.
"For me, grime is just as British as any other music form. Having pride in your country shouldn't be a bad thing."
These pictures became so popular that they were displayed at the Tate Britain in 2015.
But even though he is grateful for recognition by such a prestigious arts venue, Dangoor's focus is to get traction on Instagram, where most of his young fan base spend their time. During the World Cup, he gained more than 5,000 followers to his account.
"I like to say a lot with a little, which is why I like working with Instagram and using a single image to convey a story," he says. "I like to find a visual hook to grab attention. None of my work is planned. It just comes to me."