Grenfell inquiry: No evacuation advice offered by 999 operator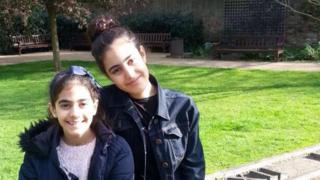 A 999 operator told a resident of the Grenfell Tower that she could not advise her on whether to leave her 22nd floor flat during last year's fire.
Naomi Li did manage to escape through thick smoke. However, her neighbours - three adults and three children - died.
London Fire Brigade manager Jo Smith told the public inquiry into the disaster that advising evacuation could have led the residents into danger.
LFB guidance says people should stay in their flat unless affected by the fire.
The public inquiry into the fire was shown a call transcript between a 999 operator and Grenfell Tower resident Naomi Li who had taken refuge in her neighbour's flat on the 22nd floor.
When the operator began to end the call, Ms Li asked: "Sorry - do we stay in the flat?"
The operator replied: "Well, I obviously can't really advise you, but I'll let the firemen know you're there, OK?"
While Ms Li survived, her neighbours who stayed - Nadia Choucair, 33, her husband Bassem Choukair, 40, their three children Mierna, 13, Fatima, 11, and Zainab, three, along with their grandmother Sirria, 60 - all died.
The London Fire Brigade (LFB) guidance says people are advised to stay in their flat unless affected by the fire.
Ms Smith said she abandoned the "stay put" advice within 15 minutes of arriving at the control room - nearly two hours after the fire at Grenfell Tower had started.
Richard Millett QC, counsel for the inquiry, asked her if the lack of advice provided by the operator was a "deficiency" in the response.
Ms Smith responded: "I wasn't there at the time but I can only imagine the situation and I really would believe that the individual knew they were on the 22nd floor, that the fire was on the fourth floor and that actually there might be callers lower down that did need fire survival guidance help."
She added the operator would not have known the situation in the building and that advising the caller to evacuate the flat could have led the residents "into a more dangerous situation".
She also said it would have been usual practice to explore a means of escape with the caller, "but that would be if we were receiving one or two calls and not the large volume of calls for help that we were receiving on that night."
A total of 344 Grenfell-related calls were received throughout the night.