Thai cave rescue: Rick Stanton says he is 'not a hero'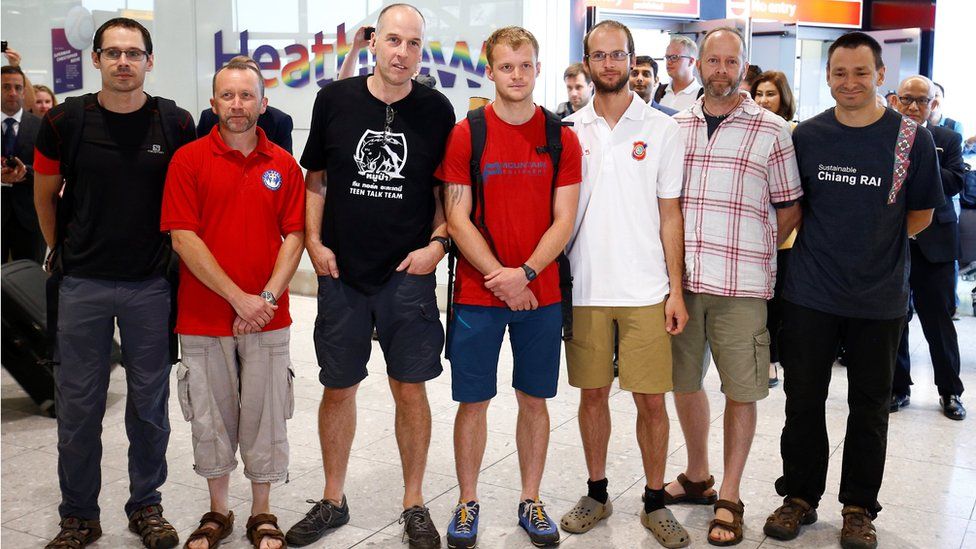 A British diver who helped to save 12 boys and their football coach from a flooded cave in Thailand has insisted he was not a hero.
Rick Stanton, from Coventry, said he was using a "very unique skill set" to "give something back to the community".
He and other divers who aided in the rescue returned to Heathrow on Friday morning.
The pair are both members of the South and Mid Wales Cave Rescue Team.
Mr Stanton told reporters: "This was completely uncharted, unprecedented territory and nothing like this has been done. So, of course there were doubts.
"I knew that we had a good team, with good support from the Thai authorities, the caving community and rescue organisations, so we had the best we could do to make a plan work."
Mr Stanton was asked how he felt when he first saw the boys alive in the Tham Luang Nang Non cave.
He said: "Initially of course excitement, relief that they were still alive.
"As they were coming down the slope we were counting them until we got to 13, unbelievable.
"We gave them a little bit of extra light, they still had light, they looked in good health. Then of course when we departed, all we could think about was how we were going to get them out.
"So, there was relief, tempered with uncertainty."
Returning with Mr Stanton were fellow divers Chris Jewell and Connor Roe, both from Somerset, Josh Bratchley from Devon, Jim Warny from Co Clare, Mike Clayton from Shropshire and Gary Mitchell from Machynlleth in Powys.
Mr Jewell said: "The diving conditions were extremely challenging, there was poor visibility and responsibility for another human being's life.
"It was a successful outcome and we played a part in an international effort."
Mr Jewell said it was very hard to judge how close it came to being a very different outcome.
"The Thai authorities took a lot of steps to divert rivers on the mountain top which we believe bought us a lot of time to get this outcome," he said.
Mr Stanton would not describe how his team rescued the children, describing it as "too detailed for this point in time".
But he said: "The most important thing to have was a full face mask which had been applied inside with positive pressure to enable them to breathe and to be relaxed enough so not to feel any anxiety during the process.
"There was a lot of chaos but we were so task-orientated, focused and we blanked that out and carried on with the job in hand, step by step, until we achieved success."
Mr Stanton declined to answer any medical questions but said: "They were carefully handled.
"There is a lot of responsibility, that is all I am prepared to say... there is a lot of responsibility that an experienced diver could handle."