'Dump Trump': Views from the London marches
By Jennifer Scott
BBC News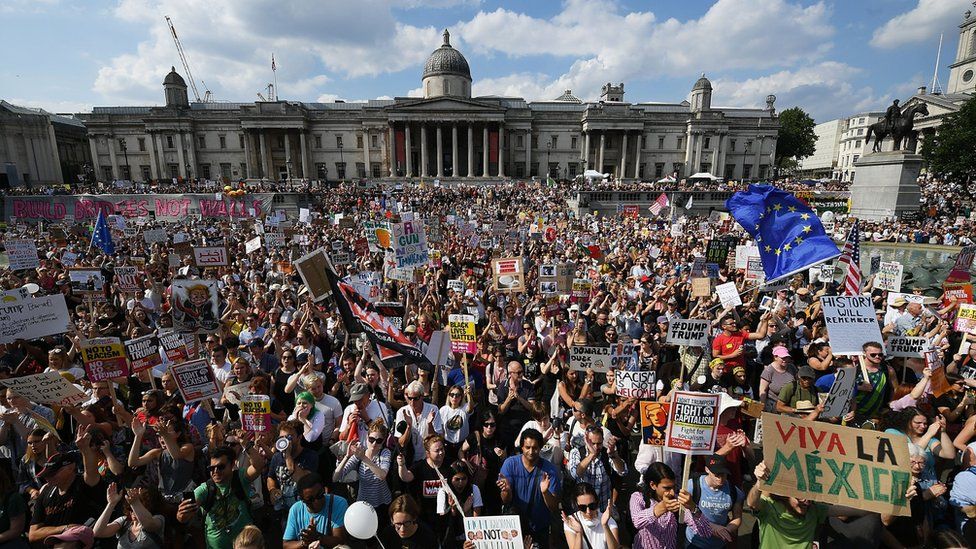 Tens of thousands of protesters filled central London's streets on Friday to tell US President Donald Trump what they thought of his visit to the UK.
Rather than a red carpet, there was a sea of people, as two large marches took place - one led by Women's March London and another by the Stop Trump Coalition.
The crowds had strong messages for the president - from their problems with his policies to hair styling tips.
They were determined to make their voices heard, or at least create a lot of noise to make their point - that they did not want President Trump in the country.
But why did they reject a visit from the leader of the world's last superpower and one of the UK's closest allies?
The 25-year-old said: "I've always been anti-Trump, but that was the last straw for me.
"It's the first time I've wanted to come out and protest against him."
It was also the first time for 52-year-old Martine Crowther, who felt it was her duty to join the protest.
After travelling up from Somerset, she said: "This is the first time in my life I've felt strong enough to come out and protest.
"He is not fit to be president, he is just a failed businessman."
Kat Nicholls, 32, from Surrey, was worried about the atmosphere President Trump brought with him and the effect it had on society.
"Ever since he's been elected, he's been the personification of hate," she said.
"Since he's been in power, we've seen racism rise.
"We need to replace that hate with kindness and love."
But it was not just British people taking to the streets.
Amie Sparrow has lived in the UK for five years, but is originally from Chicago.
The 38-year-old said: "Now it's my chance in the country I live in to have my say about my home country.
"I feel really helpless being here and seeing all the horrible things he is doing to my country.
"It feels good to be out with all these people."
Another UK-based American, Chantel Parsons, also praised the atmosphere of the protests, and spoke of her "shame" in the president.
The 31-year-old, who is originally from Washington DC, joined a group of women who met on Facebook and chose to dress as characters from the Margaret Atwood book (and subsequent hit TV drama) The Handmaid's Tale.
She said: "Having been through sexual assault myself and watching those kids being taken away from their parents, it seemed poignant to come dressed this way.
"I left Washington to get away from Trump and now he's here.
"I had to join the march."
The Davis family happened to be on holiday in the UK at the same time as President Trump, having travelled over from Pennsylvania, but they wanted to show their support to British citizens.
Mum Hope said: "We suffer with him everyday. You guys just have two days!
"But we wanted to show our solidarity."
Her daughter Sara, 16, said: "As a young Muslim woman of colour, I'm terrified of the way my government is going.
"His attitude towards immigration is terrible, there are children in cages. It's important to march."
And 14-year-old Adam added: "What I feel the most strongly about is that when I go to school I shouldn't have to worry about a shooting.
"I shouldn't have to be scared. He needs to do more."
'A powerful president with a message'
A number of organisations also joined the protests, from political groups and trade unions through to charities and community groups.
One of them was the charity Freedom from Torture.
Kolbassia Haoussou came to the UK from Chad in 2005 as a survivor of torture and was rehabilitated by the organisation.
He said: "Donald Trump is president of one of the most powerful countries in the world and the message he is sending is that torture is OK.
"We want to send a message that torture doesn't work. It breaks people and makes them leave their own country to seek help.
"I am lucky to have found that help but what about those who aren't as lucky? It must stop."
Sonya Sceats, chief executive of the organisation, added: "We have seen the president of the United States advocate torture.
"We as a group don't often hit the streets, but we wanted to stand with survivors living in this country and around the world against it."
But, amid the sea of protesters, there were some pro-Trump voices.
One man - in a Make American Great Again hat - argued that Britain should welcome the US president.