Pothole-related breakdowns 'at three-year high'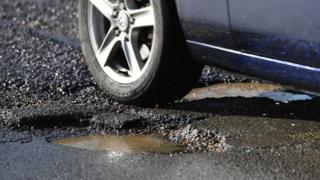 The number of drivers breaking down after hitting potholes reached a three-year high between April and June, according to the RAC.
The RAC reported a 15% rise from last year's second quarter in breakdowns caused by poor quality roads.
The motoring body said roads had not recovered from February and March's severe weather and councils were "not winning the battle" against potholes.
The government said it was spending £6bn to improve England's roads.
The RAC was called to 4,091 pothole-related breakdowns between April and June in 2018, compared with 3,565 in the same period last year - and the most since 2015 (4,436).
Incidents included broken suspension springs, damaged shock absorbers and distorted wheels.
RAC chief engineer David Bizley said the figures meant the safety of road users was "being put at risk".
The Local Government Association said a pothole was being fixed by councils "every 21 seconds".
But it said only "long-term, consistent and fairer government investment" would allow local authorities to embark on the widespread improvement of our roads that was "desperately needed".
Most potholes develop on local roads which councils are responsible for, rather than motorways and trunk roads.
In March, the government said it was giving an extra £100m to councils in England for road repairs following the prolonged spell of freezing weather.
In response to the RAC's latest figures, the Department for Transport said: "We have listened to the concerns of road users and are already providing councils in England with over £6bn to help improve the condition of our local highways.
"This funding includes a record £296m through the Pothole Action Fund - enough to fix around six million potholes."