Grenfell fire officer's 'impossible decision'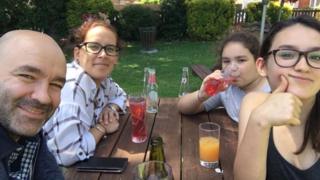 A fire station manager advised a Grenfell Tower resident to go back and get his children, despite fearing he "probably would not survive".
Jason Oliff said it was an "impossible decision" with "no right or wrong answer", the Grenfell inquiry heard.
Resident Marcio Gomes called 999 as he tried to flee the tower with his heavily pregnant wife and daughters, but he became separated from them.
The family later escaped with help from firefighters, but the unborn baby died.
Mr Oliff was in the control room and in charge of passing information from 999 calls to firefighters at the scene in west London.
He was called over to help the 999 call handler as she spoke to Mr Gomes, who was having trouble breathing in the smoke-filled stairwell as he escaped the 21st floor.
Mr Gomes told the 999 call operator that he had become separated from his wife, Andreia, and asked whether he should continue or go back for her.
"The operator was asking me 'what do I say to him?'," Mr Oliff said, adding it was a "highly stressful situation and I did not have the luxury of deliberating over the choices".
He said: "Having seen the events unfolding at Grenfell Tower on the television and having knowledge of the conditions in the stairwell, I thought it unlikely that the male would be able to make it back, find his wife and still make it out of the building with all of his children."
Mr Oliff said he believed the survival time inside the burning tower without fire safety equipment was "very limited".
He told Mr Gomes, who had his two young daughters with him, to keep going.
"After a few more floors the male informed the operator that he had now lost contact with his children," he said.
"The operator could hear the male calling out for his children, he was now in extreme distress.
"The operator was also understandably distressed, she informed me that the male didn't know what to do and again asked me 'what do I tell him?'.
"This was an impossible decision to make. There was no right or wrong answer I could give and I did not give this advice easily.
"I told the operator 'tell him to go back and get his daughters'.
"I knew in saying this, that the male probably wouldn't survive, but my thinking was that if it was me, I wouldn't want to get out of that tower without my family and live with that for the rest of my life."
A few months later, Mr Oliff said he found out that the Gomes family had survived after being helped by firefighters, but that the unborn baby, named Logan, had died.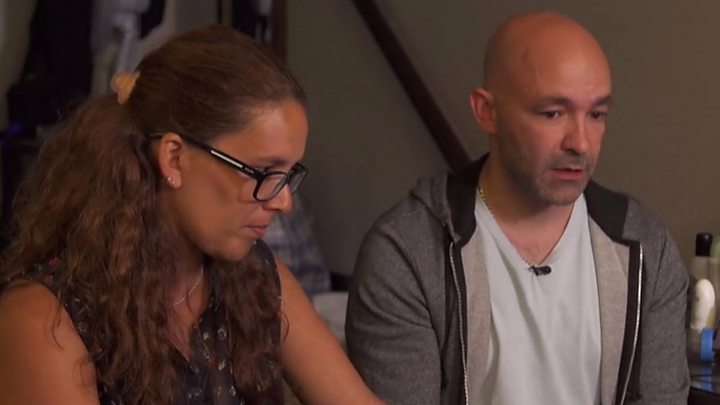 Mr Oliff, who is a station manager at Chiswick and Feltham North West Area, was working from Stratford on the night of the fire rather than the usual control room in Merton, which was closed for repairs.
"In 27 years as a firefighter I never expected to see a fire like this in London," he said.
"It is difficult to know what the London Fire Brigade could have done to deal with this fire any better than we did."
The public inquiry into the disaster on 14 June last year, which killed 72 people, is currently hearing evidence from London Fire Brigade staff.