Slime toys could have potentially unsafe levels of boron, says Which?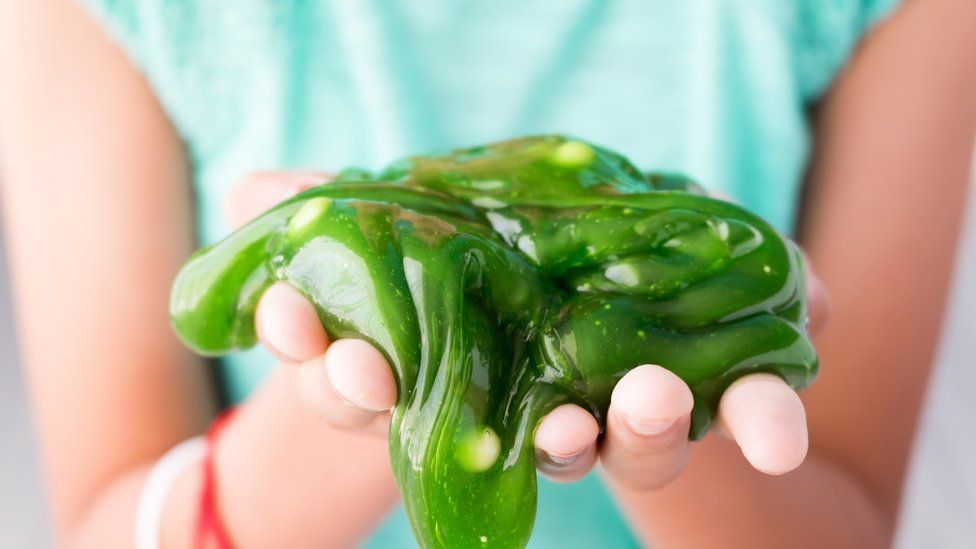 Some children's slime toys contain potentially unsafe levels of a chemical which can cause vomiting and impair fertility, according to Which?.
An investigation by the consumer group into 11 popular slime products found eight contained higher than recommended levels of a chemical called boron.
One product had more than four times the EU safety limit, the tests found.
Which? is advising parents to "approach slime with caution" and said retailers and the government must do more.
It also urged parents to be careful when choosing to make "homemade slime", adding that some ingredients used to make slime - such as some contact lens solutions - contain borax, which is made up of boron.
Slime became one of 2017's biggest crazes, with millions of people sharing pictures on Instagram and watching DIY slime-making videos on YouTube.
Which? tested some of the popular slime products on sale for the chemical boron, an ingredient which is often used to make the products sticky.
Excessive levels of boron can cause irritation, diarrhoea, vomiting and cramps, it said.
High levels may also impair fertility or cause harm to an unborn child in pregnancy, according to the European Commission.
Eight out of the 11 slime products tested contained boron levels which exceeded the European Union safety limit of 300mg/kg.
Which? warned parents that many slimes have minimal safety labelling and some are even marked with a CE, suggesting they are safe - despite boron levels being above the EU safety limit.
The eight slime toys which did not meet the EU safety directive were all purchased on Amazon, Which? said.
Amazon has removed the products identified from its website.
In a statement, the web giant said all sellers "must follow our selling guidelines and those who don't will be subject to action including potential removal of their account".
Which? said anyone who owns any of the slimes which failed the test should be able to return it to the retailer and get a refund.
The highest level of boron was Toysmith Jupiter Juice which had 1,400mg/kg of boron - more than four times the permitted level.
CCINEE Pink Fluffy Slime was found to contain 1,000mg/kg and Cosoro Dodolu Crystal Slime Magic Clay was tested to have 980mg/kg, Which? said.
Slime bought from both The Works and Smyths were tested to be within the safety limit. One product purchased on Amazon, Hulk Green Halloween Slime, met the standard.
'Did slime make my daughter sick?'
Eve Squires's daughter Tilly, 10, was given slime as a birthday gift and opened it last Wednesday.
But on the Thursday, she was sent home from school after being sick in the classroom, having also experienced stomach cramps and a high temperature.
Eve, from Wimborne, Dorset, said: "It didn't present like a normal fever because she wasn't pale and was very much normal self between vomiting. She also still had an appetite. As a mum of four, I've dealt with a lot of bugs.
"Interestingly Fin, her eight-year-old brother, complained of stomach cramps on Monday and is off school today. Fin has had less time playing with the slime kit because it is Tilly's favourite present.
"They're the only two children to play with the slime and my other two children are not unwell."
But she adds: "It could be a bug, I don't know."
Nikki Stopford, director of research and publishing at Which?, called for "fundamental changes" and said: "Manufacturers must stop making unsafe products and the government and retailers simply have to do a far better job of getting anything identified as a risk off the shelves and out of people's homes."
A Department for Business, Energy and Industrial Strategy spokesman said: "The government's top priority is to keep people safe, which is why goods being sold in the UK must meet some of the strictest safety laws in the world.
"The evidence provided by Which? will be considered by the Office for Product Safety and Standards and [it can] take any appropriate action."
The British Toy and Hobby Association (BTHA) spokeswoman Natasha Crookes said: "There are a large number of substances that are restricted from being used in toys for safety reasons.
"Borax is one of those and it is worrying to see so many failing safety tests. Our advice would be to look for reputable toy makers and retailers.
"Members of the BTHA can be found on our website and when looking for toy retailers, try to visit retailers you recognise or look for the name behind the online brand - look at the reviews of sellers, do they have a track record in selling toys and if something looks too good to be true (particularly on price), it probably is."
None of the slime toys that failed to meet the EU safety directive was made by BTHA members, she added.