BAME characters should be 'more central' in children's books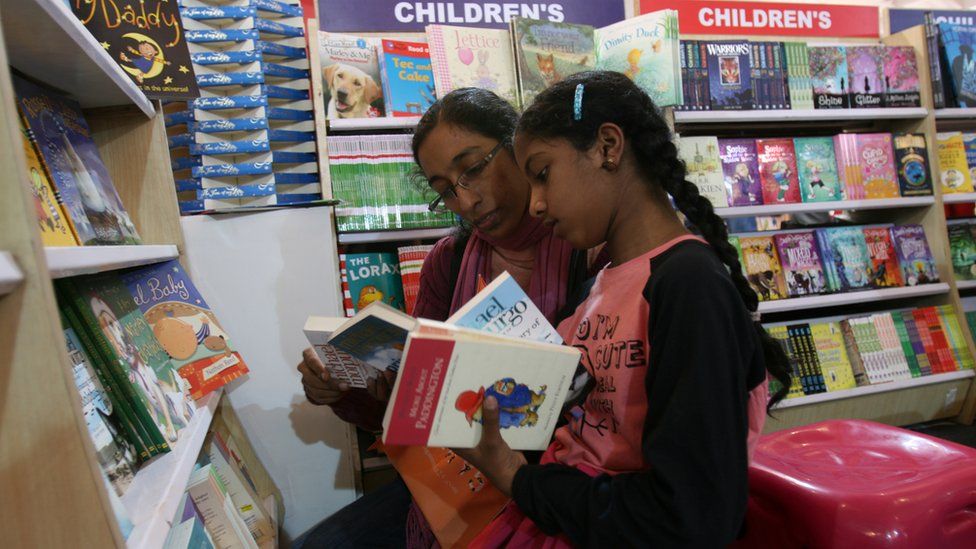 Children's books should feature more ethnic minority characters in central roles, a literacy charity has said.
The Centre for Literacy and Primary Education also said black, Asian and minority ethnic (BAME) characters should not be mainly defined by their struggle, suffering or "otherness".
The Publishers Association said diversity issues were being worked on.
In the study, funded by Arts Council England, 40 publishers submitted 587 books from 2017, of which 391 met CLPE's criteria of being written for children aged between three and 11 and featuring at least one BAME character.
Of those, 56% involved "contemporary realism" issues such as war, refugees and racism, compared to just 0.6% being classed as a comedy.
Other categories included fantasy (20%), historical fiction (9%) and science fiction (4%).
CPLE is recommending that:
Representation of BAME characters should be "meaningful and accurate" thereby "better reflecting the UK population"
Stories should allow for cultural details "without reducing characterisations to derogatory stereotypes"
BAME characters should be central and not only predominantly feature in the margins
Non-fiction needs to be "more representative"
BAME characters should "exist across a range of genres" to "allow readers to experience the full spectrum of emotions"
Project leader Farrah Serroukh said: "If young readers are only experiencing characters from certain backgrounds in certain contexts, it tends to skew their perspective on those people.
"If you only see them in a social justice context or as struggling, being oppressed or on a quest for liberation, then the understanding can be diminished for both BAME and non-BAME children."
CLPE also said only 4% of the 9,115 children's books published in the UK in 2017 had a BAME character, although the data on how many publishers of those books submitted their work for the survey has not been made available.
Ms Serroukh said: "The findings are not particularly surprising, this has been a gut instinct for those working in the children's books industry for some time.
"Ultimately what we want to see is a balanced diet of books on the shelf.
"Children have to have access to a wide and varied range of literature."
She said the industry should "invest in both established and new authors" and stories should be "thoroughly researched" and all characters should be "respectful, nuanced and layered".
This is the first survey of its kind to be carried out in the UK and Ms Serroukh hopes it will become an annual investigation.
She said: "In time, what we want is there to not be a need for this survey."
Author Sonal Sachdev Patel said she wanted to write her book GITA: The Battle of the Worlds, co-authored with Jemma Wayne-Kattan, because there was a lack of books for her children.
She said: "I think it's really important we talk about BAME communities in a representative way so readers do not see them only associated with these issues.
"I want my children to be able to know about their culture but also embrace what the best of British is.
"Until we increase the representation of BAME characters in our books we can never build the understanding we need of each other.
"Respect comes from understanding and exposure."
Stephen Lotinga, chief executive of the Publishers Association, said CLPE's figures are "sobering" and publishers are "genuinely working to try and address representation in their books".
He said: "There is a real will for change, these figures show that there is still a huge amount of work to be done."
Mr Lotinga also said many publishers are "making significant efforts" to make their workforces more diverse which, in time, is "likely to help in terms of the books that are published".
Francesca Dow, managing director of Penguin Random House Children's, said the company was "already very much aware that there are still too many stories which are not being told and too many voices being overlooked".
She said the firm runs several schemes to increase diversity of authors.
Ms Dow said: "We want to give every child the opportunity to be able to see themselves in books and to see their experiences, cultures and communities reflected and also for books to be their window on to other cultures."