Grenfell inquiry: TV images 'influenced' stay-put policy change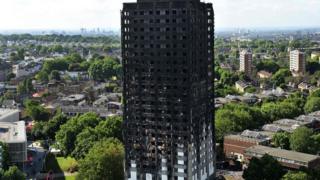 TV news footage showing Grenfell Tower in flames led to the fire service abandoning its "stay put" advice to residents, a senior officer has said.
Deputy Assistant Commissioner Adrian Fenton told the inquiry into the June 2017 blaze that seeing the "visual overview" saw him discuss the policy with the control room manager.
The standard advice was abandoned two hours after the fire's start.
Mr Fenton agreed the images were the "influencing factor" for his actions.
He was being questioned by counsel to the inquiry, Richard Millett QC, about the scenes in the fire service's incident co-ordination centre and the upstairs control room, where operators were speaking to residents trapped in Grenfell Tower.
The public inquiry into the disaster which killed 72 people had previously heard that a television in the control room had been left switched off so as not to further distress the operators.
Mr Fenton said he left the control room to look at a TV and saw the side of Grenfell Tower was "fully engulfed in fire".
He said: "I was after a visual picture of what was happening on the incident ground, so that's why I went down to look at the monitor screen... to get that visual overview of what was happening."
Mr Fenton told the inquiry he then went "straight upstairs" to discuss changing the advice with senior operations manager Jo Smith, who made the decision to abandon the "stay put" policy.
The new advice to evacuate was then passed to fire service colleagues on the ground and residents on emergency calls.
A "stay put" policy is based on the theory that buildings can be designed to prevent fire spreading, so a blaze in one flat should not be able to spread to another.
But expert reports submitted to the inquiry suggest that, since 1974, major changes to Grenfell Tower destroyed that protection.