Network Rail: Record number of young people dying on railways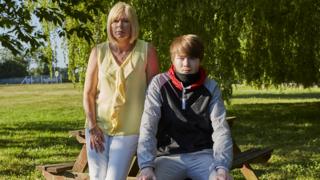 The number of teenagers taking risks on railway tracks has jumped by 80% in the last five years, new figures suggest.
Rail safety data shows the number of young risk-takers doubles during the summer compared with winter months.
Network Rail say a record number of young people have lost their life on railway tracks this year.
To combat a lack of knowledge about the dangers, the rail industry and the British Transport Police have launched a campaign called You vs Train.
The campaign highlights the story of Tom Hubbard, who suffered life changing injuries after being struck by 25,000 volts of electricity when he came into contact with the overhead wires which power some trains.
Eleven days after the accident, Mr Hubbard says he woke up in hospital "wrapped from head to toe in bandages, heavily medicated and unable to string a sentence together".
He had suffered third degree burns across 57% of his body and says he is still dealing with the physical and psychological consequences.
"Four years on I'm still affected by the events of that day and every time I look in the mirror I'm reminded by that one decision to go on the railway," he said.
"The accident has made me more of an introvert and cautious of trying new things, often opting to stay in during the day to avoid people, and wear hoodies and long-sleeved tops to hide my scars, even on hot days."
A film re-enacting Tom's story will be shown in cinemas over the summer.
In June three young men were killed by a train near a south London railway station.
British Transport Police (BTP) said it is believed they were hit by an out-of-service passenger train.
In the past 12 months, seven children have died and a further 48 have received life-changing injuries on the railway.
Network Rail said the new figures relate to accidental deaths and injuries as a result of trespassing.
They do not include railway deaths which have been recorded as suicides by a coroner or incidents related to level crossings.
A survey carried out on behalf of Network Rail and the British Transport Police (BTP), suggests there is a lack of knowledge about the dangers of the railways among young people.
It found that 15% of 13 to 18-year-olds believed it was safe to walk on the railway track if there were no trains coming.
Only 37% deemed the railway to be extremely dangerous and more than half did not believe that sidings were dangerous.
Get news from the BBC in your inbox, each weekday morning
The rail industry is planning to roll out a new schools engagement programme and BTP officers will be stepping-up patrols.
Allan Spence, head of public and passenger safety at Network Rail, said: "The electricity on the railway is always on and always dangerous."
He appealed to parents to help keep their children safe by educating them on the hazards of railway tracks.