How a plot to kill Theresa May in Downing Street was foiled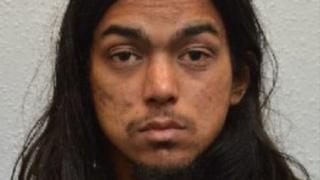 A college drop-out who sought revenge for his uncle's death in Syria has been convicted of preparing to attack Downing Street and kill the PM.
Naa'imur Rahman, 20, was convicted at the Old Bailey after he was trapped in a major undercover operation involving the FBI, MI5 and police.
Rahman approached officers posing online as fellow extremists, asking them for help with an attack.
He met two and repeatedly asked for bombs - leading to his conviction.
He has now been jailed for a minimum of 30 years.
How did the plot develop?
Last summer Rahman was homeless in London after falling out with both his mother in the city and close relatives in Walsall, where he grew up.
Three years ago he was referred to the national deradicalisation scheme, Channel, amid concerns that the-then teenager could be brainwashed by his uncle.
When he was investigated last year over an allegation of sexting with an underage girl, intelligence emerged from his phone that he had maintained contact with his uncle.
Who was Rahman's uncle?
Musadikur Rohaman left the UK for Syria in 2014. The Old Bailey trial heard that he'd been encouraging his nephew to attack the UK and had sent him bomb-making plans and other extremist material.
However, in late June 2017, Rohaman was killed in a coalition drone strike on IS fighters near the city of Raqqa.
When Rahman learnt of his uncle's death, prosecutors told the trial that he planned his revenge.
How did he develop his plan?
Rahman made contact with IS recruiters via social media - but unbeknown to him the contact was actually an FBI agent.
That agent referred Rahman to an MI5 team of online role players who convinced him that they were genuine IS figures.
"I want to do a suicide bomb on Parliament," Rahman told the MI5 role players.
"I want to attempt to kill Theresa May. All I need now is a sleeper cell to lay low for now."
Despite his total lack of skills or training, MI5 was concerned that Rahman would press ahead, so counter-terrorism chiefs launched an elaborate undercover operation to gather evidence of his intent.
As Rahman kept asking for help, the MI5 team introduced him to an undercover police officer in London posing as an Islamic State weapons fixer.
The jury watched secretly recorded video of Rahman meeting "Shaq" in a car and setting out his aspirations.
He told the story of his uncle's killing - and asked for a truck bomb and firearms - before conceding he could neither drive nor fire a gun.
Rahman then settled for storming Downing Street in an attempt to kill Theresa May.
How would he attack Downing Street?
On 6 November last year, Rahman laid out his final plan to "Shaq" - a recording of it was played in court.
"I have drawn up a plan, gone through it in detail in my head. You know at the gate of Downing Street? There are about four men innit? And two men on the door?
"I want to get past that gate and if I can get to the door I want to make a dash for Theresa May. She sleeps there every night."
Shaq asked Rahman to elaborate on how he thought this was possible.
"If I have a backpack with stuff inside and I do that at the gate and I get past the gate... a 10-second sprint to the door."
"I'll be honest with you," replied Shaq. "I've never looked at it."
"I wanna drop a bag at the gate, so the gate blows up a bit and I can go through and then like, make a run, like I was thinking taking a human hostage until I get to the actual door.
"Grab a human shield and then once I get close enough to the door, I'll do what I can with them to get inside."
"You're trying to get to Number 10," asked Shaq. "That's your main objective?"
"Take her head off, yeah," replied Rahman.
Rahman said he couldn't fund the attack because he was "broke and homeless" - but he handed over a jacket and a rucksack, asking for both to be filled with explosives.
Shaq returned the items with a fake bomb in the bag and the jacket filled with supposed explosives.
Rahman took both off him and said: "Do you know? Now I've seen everything it feels good."
As he walked away from the scene he was surrounded by police, arrested, and later said: "I'm glad it's over."
Did he really intend to attack?
Rahman told his trial that none of his plans was serious. When he made contact with men whom he thought were his uncle's comrades in Syria, he had begun showing off, making up schemes to impress them.
He told jurors that one fantastical proposal had been to build balloons to drop missiles from the edge of space.
Rahman claimed he had been set up and tricked by MI5 and the police.
But prosecutors showed that Rahman had carried out extensive reconnaissance of Downing Street, Parliament and nearby government buildings.
The jury had to be convinced that Rahman had seriously intended to attack Downing Street and had taken the first steps along that course.
In sentencing, Mr Justice Haddon-Cave said: "I am sure that at all material times Rahman believed the devices to be real and capable of causing serious harm."