'I have to accept my daughter is gone'
By Adam Eley and Katie Alston
BBC Victoria Derbyshire programme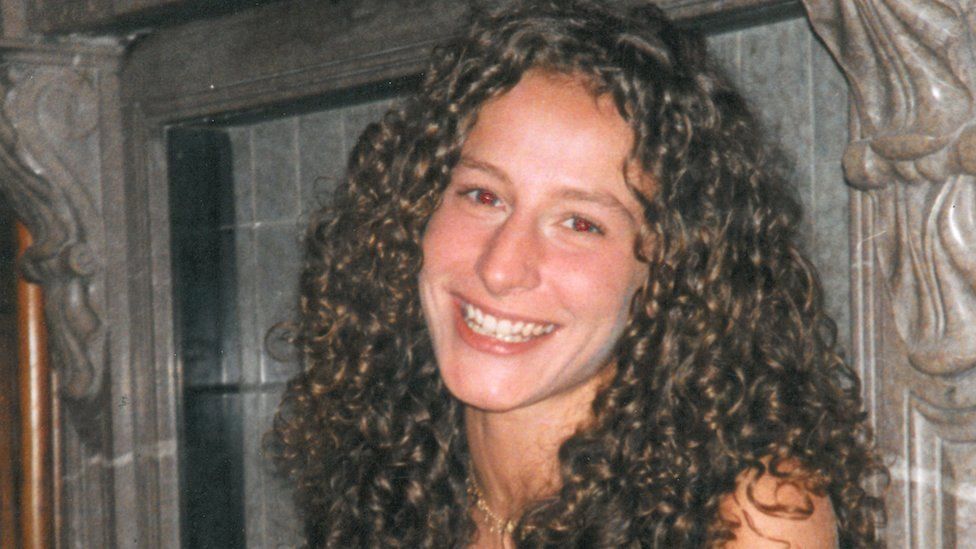 When Kate Osborne vanished while living in Bali, rumours swirled that her disappearance was connected to the drugs underworld. Now 15 years on, her mother, Liz, says the family have had to accept they may never know what happened.
"There is no part of me that believes that she could still be alive," Liz Osborne tells the BBC's Victoria Derbyshire programme.
Her daughter, Kate, was last seen on the Indonesian island of Bali in April 2003, aged 34.
But despite a UK police investigation and the hiring of private detectives, no trace of what happened to her has ever been found.
Differing theories have linked her disappearance to the drugs underworld or to an affair that her boyfriend at the time was said to have been having.
Kate moved to Bali in 2001 - having previously travelled around Indonesia - making it her second home.
"She loved travelling and seeing different parts of the world," says Liz.
But after a bomb attack on the tourist destination in 2002, which killed 202 people - including 27 Britons - she had begun making plans to return to the UK.
But then, communication with her family stopped.
"I was getting angry and then worried," says Liz, remembering how her fears grew with each unanswered voicemail.
"We hadn't heard from Kate for three weeks.
"I put the lack of contact down to her dodgy answerphone - but these three weeks without hearing from her were out of character for the recent pattern of contact we had been having with her."
After voicing her concerns to friends, Liz decided to seek help - contacting the Foreign Office, which she now describes as "toothless and full of platitudes".
The Foreign Office said Kate's family "have our deepest sympathies" and "our staff will do all they can to assist British people who ask for advice and assistance".
Liz says as the weeks passed by in 2003, without contact from Kate, they knew "something was incredibly wrong" - believing she had died.
"Rumours were swirling that the Peruvians had something to do with it as Joseph, Kate's on-off boyfriend and former fiance [who had several aliases], was Peruvian and many argued that the South Americans were above the law on Bali."
UK police took up the case - "but of course no-one was going to talk [to them]", says Liz.
Joseph had been caught up in the drugs trade and Kate had contacted the FBI in 2002, Liz says, telling them "what she knew to have been happening with drug distribution on Bali and gave them the names of people she knew to be involved".
"We assumed they [those in the drugs world] got rid of Kate because she was dangerous to them, because she could expose them or be simply just be a nuisance.
"She had a volatile relationship with Joseph too, so I guess in their eyes she was a threat to what they were doing."
Liz is very complimentary about the work of the Cumbrian police but says it was hampered by the authorities on Bali, who did not accept that a crime had been committed "without evidence or Kate's body".
UK police wanted to dig up the garden around Kate's house but the local authorities would not let them, she adds.
Three years after Kate was last seen alive, however, a new avenue opened - an informer contacted Liz and her husband.
"They told us who had killed Kate and that it was a woman who had been having an affair with Joseph," she says.
"Kate had apparently confronted the woman and threatened to tell her husband and she killed Kate."
Liz says she had to pay for the informer to come to the UK in order to be questioned by UK police - who were unable to conclude what had happened.
And private investigators later hired by the family uncovered little more than Cumbrian police were able to.
The family has had to come to terms with the fact they may never know what caused Kate's disappearance.
Liz believes they will never find her daughter's body but says "it isn't important for us to know what happened to her anymore".
"You get eaten up with it and you have to let go," she says.
Instead, she has written a book, Remember to Smile, to speak of the happiness Kate brought to the family.
"No-one can take away the wonderful years we had with Kate - the joy, the warmth she gave to our lives.
"She is with us all of the time. She motivates us to carry on and live our lives," she says.