Grenfell firefighter: 'I carried girl down nine floors'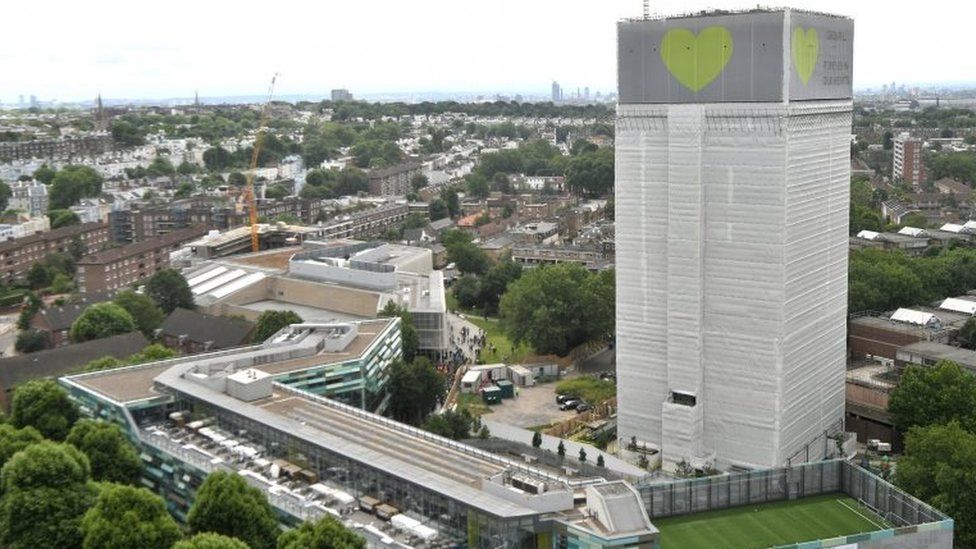 A firefighter who was still on probation at the time of the Grenfell Tower disaster has told the inquiry how he rescued a young girl from the blaze.
Harry Bettinson strapped an oxygen mask to the girl, thought to be four or five, and carried her down nine floors to safety as her mother followed.
He said he became aware they were "running out of time" as he could see "fireballs and flaming arrows" outside.
In a written statement, Mr Bettinson explained how he had waited with the pair inside a ninth floor flat while his colleagues went to get extra breathing equipment.
He said: "We put one of the new sets on the mum so she was wearing it on her back.
"Then got a spare mask set out and I hooked this up to my spare hose so the little girl would be breathing my air.
"She didn't fuss once, even when the mask was put over her.
"I was really taken by how calm they both were throughout."
The Paddington firefighter left the flat with his colleagues and walked through the thick smoke down the "pure black" stairwell.
Mr Bettinson continued: "I was also having to be as careful as I was carrying the little girl, I was holding her tight to my chest. She never once made a fuss.
"At one point I grew concerned as I didn't know if she was breathing she was so still and quiet.
"I shouted at her to open her eyes and she did so I knew she was still OK."
Mr Bettinson said he then began to help to bring casualties out of the building, estimating he saw more than a dozen bodies that night.
The fire was only the second high-rise blaze he had attended, he said.
Inquiry chairman Sir Martin Moore-Bick told him: "If I may say so, I think you played a very important part in the fire brigade's response and did extraordinarily well."