NI Paper Review: Weekend road deaths and #I'mWithMay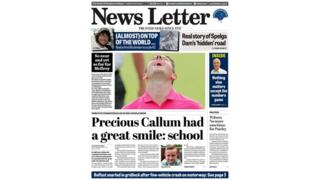 Two fatal car crashes over the weekend dominate the front pages.
The Irish News reports that tributes are being paid to eight-year-old Callum Morrow who was was killed in a car crash on Saturday.
Callum, his father and brother were involved in a two car collision on the Aughnacloy Road in Banbridge where the eight-year-old died at the scene.
The newspaper reports that the father and younger brother remain in a stable condition in Craigavon Hospital.
The Irish News also reports that a woman who was travelling in the other car involved in the collision was in a critical condition in Belfast's Royal Victoria Hospital on Sunday evening.
Callum's school paid tribute to him, calling the eight-year-old "a precious part of the class and whole school family".
The Newsletter reports on the second car crash that happened over the weekend which caused major disruption across Belfast.
The newspaper writes that there was a major emergency services response to a five-vehicle crash on Sunday that happened on the M2 just before 4pm.
A man died after the incident and a further three people were taken to hospital but have now been discharged.
The Belfast Telegraph features a story about a student from Northern Ireland who has come under criticism for outwardly pledging her support for prime minister Theresa May.
Conservative activist Aine Lagan, 20, from mid Ulster, is one of a number of "superfans" who are standing by Mrs May.
Aine started the social media campaign #I'mWithMay which is being used by young people as a "way of showing support to the PM".
It started after the former Conservative party chairman Grant Shapps tried to unseat Mrs May following her speech at the conservative conference last year.
After Mrs May's visit to Northern Ireland last week, Aine tweeted "I've always said that the only leader I believe who has the best interests of Northern Ireland at heart is Theresa May, and her speech in Belfast is further proof of that #I'mWithMay."
The Newsletter also features a front page story on DUP East Antrim politician Sammy Wilson's comments on Ian Paisley's current 30 day ban from the House of Commons.
The paper reports that Mr Wilson said that Ian Paisely had been "punished enough" and should face no further sanctions for failing to declare two holidays paid for by the Sri Lankan government.
Mr Wilson told the BBC's Sunday Politics NI show that "I believe he has admitted he was wrong, he didn't try and hide it, he has stood up and publically apologised for it and he has been punished very severely and that should be the end of the matter".
And the Irish News features a front page story with more details of a secret ceasefire meeting with the UVF which is said to have taken place in the early 1990's.
It reveals that senior Sinn Fein politician Francie Malloy has confirmed that that the meeting took place in a hotel car park near Dungannon before a UVF gang ended their campaign.
The newspaper writes that it is believed that the meeting was called after a senior UVF member was killed by the IRA.
Mr Molloy said he received a phone call from representatives of the UVF asking him to attend in the summer of June 1993.
The Sinn Fein MP told the Irish News "The message coming to me as a Sinn Fein representative was that this loyalist group was saying they were stopping. I don't think there were any other attacks in that area- there was an understanding that things were moving on".