UK weather: How long will the heatwave last? And other questions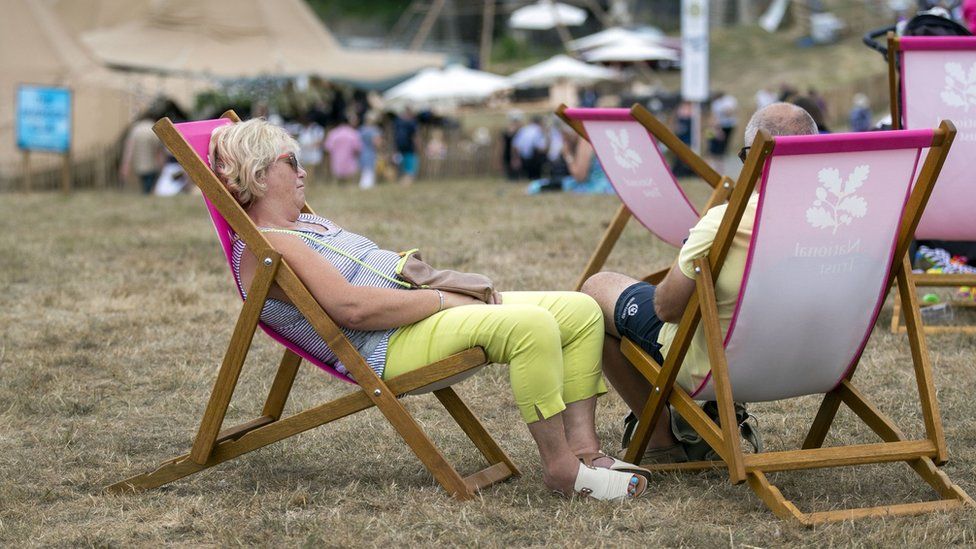 After a brief burst of heavy rain last weekend, the summer heatwave is returning to some parts of the UK.
Temperatures are forecast to rise again across southern England, with the hot weather set to continue into the first half of next week.
Meanwhile, Europe is bracing itself for the hottest-ever temperatures with Spain and Portugal predicted to break the 48C (118.4F) record set in Athens in July 1977.
As many struggle to stay cool this summer, here are some of the questions you've been asking Google.
How long will the hot weather last?
The hot weather is set to persist in the south of the UK throughout the weekend, says BBC Weather forecaster Billy Payne.
Temperatures are expected to reach highs of 33C in London on Friday before dropping back slightly to 29-30C on Saturday and Sunday.
"The weekend as a whole across the UK will be largely fine and warm with spells of sunshine," he says - although the exception will be the north-west of Scotland which will see showers.
The heatwave in the south-east is forecast to continue into the start of next week with highs of up to 32C - although the Met Office said it is unlikely to be record-breaking.
But from Wednesday, the weather will become fresher as an area of low pressure develops and for the rest of the week temperatures look set to return to more "normal levels" of mid to low 20s.
For the middle weeks in August, Met Office forecaster Becky Mitchell predicts a return to the "typical British summer" with some more unsettled weather and a risk of showers.
Temperatures will be closer to 20-22C in southern areas and 16-18C in the north of England, Scotland and Northern Ireland.
Hotter temperatures could return at the end of August as the weather becomes less changeable, Ms Mitchell said, although the outlook is still uncertain.
What is the highest ever UK temperature?
The hottest day so far of 2018 was Thursday 26 July, when temperatures reached 35.3C in Faversham, Kent.
But it still did not top the UK's highest ever recorded temperature of 38.5C (101F), also in Faversham in Kent in August 2003.
Provisional figures from the Met Office had suggested that Scotland experienced its hottest ever temperature in June, when 33.2C degrees was measured in Motherwell, North Lanarkshire.
So Scotland's high of 32.9C recorded in August 2003 at Greycrook in the Borders still stands.
What about the heatwave in Europe?
Forecasters say the all-time temperature record in Europe could be broken in the coming days.
The current European record is 48C (118.4F) set in Athens in July 1977.
Hot air sweeping in from Africa is causing temperatures to rise in Spain and Portugal and temperatures are forecast to rise to up to 47C in parts.
The Association of British Travel Agents urged holidaymakers visiting the areas to "copy the locals".
"Avoid spending time in the sun during the hottest part of the day, drink lots of water and apply plenty of sun cream," a spokesman said.
"If you go to the beach, go early and when it feels like it's getting too hot leave, just as the locals do, and go and have a nice lunch in the shade."
Should you cut grass in hot weather?
You can't fail to notice how brown the UK landscape has become this summer.
But, says the Royal Horticultural Society, brown lawns look a lot worse than they are and they should recover rapidly with renewed rainfall.
When mowing dry lawns, the RHS advises gardeners to raise the height of cut on mowers to avoid weakening the grasses. Allow the clippings fall back onto the lawn - this will slow down the evaporation of water from the soil surface.
The RHS also suggests watering the lawn (provided there are no hosepipe restrictions in force) in early morning, evening or even at night to reduce water wastage from evaporation.
Is it safe to fill up your petrol tank in hot weather?
When there's warm weather, a false social media story about petrol tanks exploding in hot conditions tends to resurface.
This is a complete myth, says the AA's head of road safety, Ian Crowder.
"Cars operate perfectly well in temperature extremes across the world - whether inside the Arctic Circle or in equatorial countries," he says.
"Cars fuel tanks are designed with a venting system that allows for the relatively small expansion and contraction of the fuel between temperature extremes.
"There is absolutely no risk that simply filling the tank will increase the risk of an explosion."
How do you sleep during hot weather?
The NHS suggests keeping rooms cool by using shades or reflective material outside the windows - or light-coloured curtains which are closed.
"The most sensible option is to use a [electric] fan," says Mary Morrell, professor of sleep and respiratory physiology at Imperial College London. "It will help move the air around your body and increase the chance of sweat evaporating."
Thin cotton sheets rather than nylon bedding are also recommended.
Prof Kevin Morgan, director of the Clinical Sleep Research Unit at Loughborough University, says a lukewarm shower before bed is preferable to a cold shower.
How do you keep babies cool?
The NHS recommends keeping all babies under six months out of direct sunlight and older infants out of the sun as much as possible, particularly in the summer and between 11:00 and 15:00.
They should be kept in the shade or under a sunshade if they're in a buggy or pushchair.
Sun cream with a high sun-protection factor should be applied regularly - particularly if children are in water.
All children should be given plenty of fluids.
The NHS says babies who are being breastfed may want to feed more than usual but will not need water as well as breast milk.
If they are bottle feeding, babies can be given cooled boiled water as well as their usual milk feeds.
Rachel Frost, from Birmingham Dogs Home, has some advice for keeping canines cool this summer.
What are the symptoms of heatstroke?
The NHS says heat exhaustion is not serious and usually gets better when you cool down. But if it turns into heatstroke it needs to be treated as an emergency.
Signs of heat exhaustion include dizziness and confusion, loss of appetite, feeling sick and intense thirst. Children may become floppy and sleepy.
Signs of heatstroke include temperature of 40C or above, shortness of breath and seizures.
When it is too hot to work in the UK?
Unfortunately for those seeking a day off there are no laws in the UK about when it is too hot to work (or too cold).
Employers should provide a "reasonable" temperature in the workplace.
Londonderry-based employment law specialist Martina McAuley says: "Employers do need to consider the impact of workplace temperature and have a general duty to ensure the safety, health and welfare of all employees."
But the Health and Safety Executive (HSE) says a limit cannot be introduced because some industries have to work in high temperatures.