UK heatwave: Temperature record could be broken this week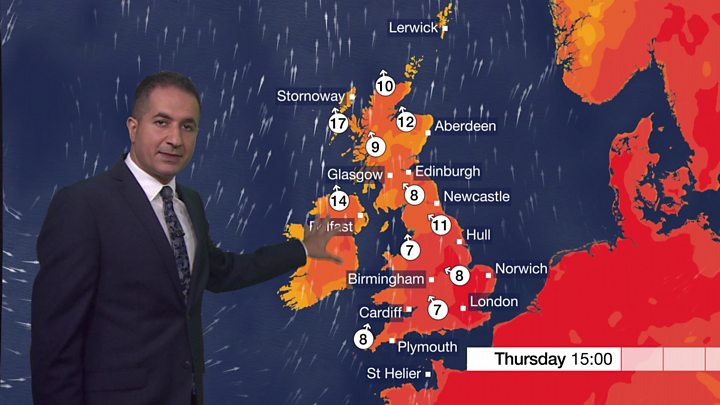 The UK's all-time temperature record could be broken by Friday as the hot and dry summer continues.
Highs of up to 37C (99F) are forecast in southern, eastern and central England, but the Met Office says "if conditions all come together", the record of 38.5C (101F) could be beaten.
That was set in Kent in August 2003.
But much of England could experience thunderstorms and hail showers on Friday, bringing the risk of flash flooding.
Some places could see as much as 30mm of rainfall in an hour and 60mm in three hours.
Meanwhile, fire crews are urging people enjoying barbecues and other outdoor activities in dry areas to avoid "careless and reckless" behaviour that could start a blaze.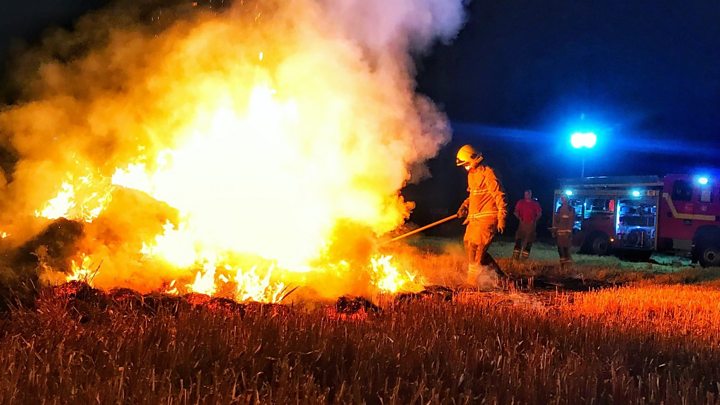 In London, firefighters have already attended six times as many large grass fires this year as in the whole of 2017.
Tom George, deputy commissioner and director of operations for London Fire Brigade, said the force was "fed up of politely asking people to take care".
Across the country, other brigades are issuing similar warnings about the risks posed by cigarettes, glass bottles, barbecues and camp fires when the ground is tinder dry.
Churches have advertised themselves as places to keep cool. York Minster tweeted that people should "look no further" for a place to stay indoors and out of the sun.
And the weather was even too much for India's cricket team: their warm-up match against Essex ahead of the test series with England has been cut short by a day because of concerns about the heat.
Sweltering Londoners forced to take the Underground have found scant comfort in the news from Transport for London that air conditioning is coming to the Central Line - in 2030.
Paul Hedge tweeted sarcastically: "Not too bad then! Only another 11 and a half years to go."
Some overground trains are also being forced to operate at reduced speeds because of the risk of tracks buckling.
Chiltern Railways trains between London and Oxford are being rescheduled between noon and 18:00 BST each day until Friday.
Hospitals, too, have been affected by the heat.
Kim Sun-Lee, national officer at the Royal College of Nursing, told the BBC: "We know wards are reaching over 30C, nurses are feeling sick, dizzy, having problems with their concentration.
"And that then does have an impact on how they care for their patients, making decisions around drugs calculations and just generally doing a physical occupation."
The number of people visiting the NHS Choices website for advice on heat exhaustion and heatstroke has more than quadrupled compared to last year.
Up to July 23, there were 230,611 visits to the page, while in the whole of July 2017 there were only 52,143.
In London, Mayor Sadiq Khan issued a "high" air pollution alert for Thursday, which will be displayed at bus stops, on busy roads and in Underground stations.
It is the second time in six months that the capital has had to use the alert system, with Mr Khan describing London's air pollution as "a public health crisis".
Members of the public have also been urged to take precautions after research suggested people are getting less than half the sun protection they expect from suntan lotions.
The problem, King's College London scientists say, is a result of the way people apply lotion to their skin.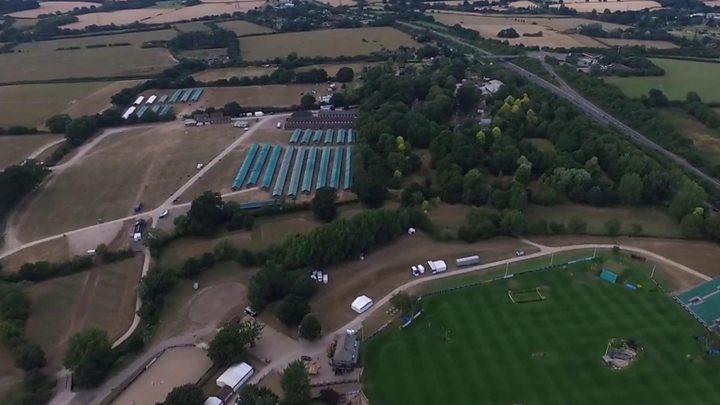 Meanwhile, in Derbyshire, the heatwave has exposed the remains of an ornate 17th Century garden design at Chatsworth House.
The patterns of where flowerbeds and paths once were can be seen under the South Lawn's scorched grass.
Head of gardens Steve Porter said he had known the designs that date back to 1699 were hidden underneath the lawn.
---
2018 and 1976 - a tale of two heatwaves
By David Shukman, BBC science editor
In 1976, the high pressure system was centred further to the east of the UK than now.
That had the effect of drawing up hot humid air from the south, making night-time temperatures even hotter than they have been this year.
The exact location of systems such as this really matters because the UK is relatively small - so a shift one way or the other can have a big effect.
So what about the actual heat?
This is no comfort to anyone toiling outdoors now, but 1976 was in a different league to this year.
---