Sir Cliff Richard: BBC agrees to pay £850,000 towards legal costs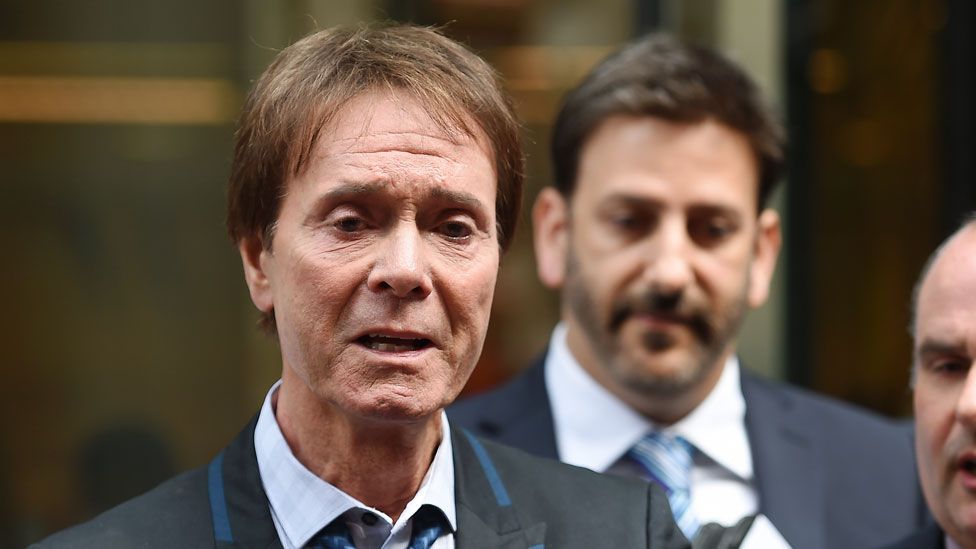 The BBC has agreed to pay Sir Cliff Richard £850,000 towards his legal costs within 14 days, following his privacy case against the corporation.
A judge ruled the BBC infringed the singer's privacy in its reporting of a police raid on his home in 2014, awarding him £210,000 in damages.
Sir Cliff was never arrested or charged as part of the investigation.
The corporation has apologised to Sir Cliff for the distress caused, but wanted permission to appeal, arguing the court judgement could threaten press freedom.
The BBC will now decide whether or not to go directly to the Court of Appeal to seek permission to appeal.
A BBC spokesperson said: "This is a complex case and while we hadn't decided on whether to pursue an appeal, we sought permission today in order to keep all options open.
"We reiterate that we are very sorry to Sir Cliff for the distress caused and have no desire to prolong this case unnecessarily, but the ruling has raised significant questions for press freedom and we are considering the best way to address these."
The judge's findings had included that Sir Cliff had a right to privacy while he was a suspect in the South Yorkshire Police investigation - trumping the broadcaster's right to freedom of expression to publish his name and cover the raid.
Barrister Gavin Millar QC, leading the BBC legal team, told a hearing on Thursday it was "appropriate" for the corporation to pay legal fees incurred by Sir Cliff.
The £850,000 may not be the final total for his legal fees, but Sir Cliff is being given it now to pay his lawyers.
The singer's lawyer, barrister Justin Rushbrooke QC, did not give an overall figure for how much the case had cost his client, but Sir Cliff told the trial he had spent more than £3m.
The BBC is also going to pay £315,000 to South Yorkshire Police for legal costs.
By Amol Rajan, BBC News media editor
For the BBC, the decision whether to spend more money on this case is a difficult dilemma with high stakes.
There are many factors to consider.
First, will an appeal cause further distress to Sir Cliff? The corporation has said that it is sorry for the distress caused to him, so why extend the agony?
Second, to fight this verdict is to keep it in the public eye. An appeal could create the possibility of more adverse publicity.
Third, what are the chances of success? And finally, this is public money.
Sir Cliff is commonly regarded as a national treasure. Why throw more of other people's money - ie licence-fee payers' incomes - at a case in which a national treasure is aggrieved?
But what is the cost of not appealing? If the freedom of journalists is diminished as a result of editorial decisions made by the BBC, then not fighting this verdict could lead to resentment in Fleet Street, where the BBC lacks friends. And then there is the principle.
Many journalists, inside the corporation and beyond, really do feel that journalism would be damaged.
Mr Justice Mann ruled in favour of Sir Cliff, 77, following the trial in London.
He concluded the BBC's coverage - which involved a helicopter filming the search at Sir Cliff's Berkshire home - had been a "very serious" invasion of privacy.
Police officers had been investigating an allegation made by a man who claimed he was sexually assaulted by Sir Cliff at an event at Sheffield United's Bramall Lane in 1985, when he was a child.
The BBC must pay 65% of the £190,000 and South Yorkshire Police 35%.
South Yorkshire Police had earlier agreed to pay Sir Cliff £400,000 after settling a claim he brought against the force.
On Thursday, the BBC's Mr Millar outlined his permission to appeal arguments in a written document, saying there was a "compelling reason" for the case to be heard and that it had a "real prospect" of success. It was rejected by Mr Justice Mann on all counts, however.
The BBC's director of news has said the ruling could have an impact on press freedom.
Speaking outside court last week, Fran Unsworth admitted the case had had a "very serious impact" on Sir Cliff, and there were things that could have been done differently.
But she stressed that even if no footage of the search had been broadcast, "the very naming of Sir Cliff would have been unlawful", according to the judge's ruling.
"This creates a significant shift against press freedom," Ms Unsworth said.