Dermot O'Leary tribute after Battle of Britain ace Tom Neil's death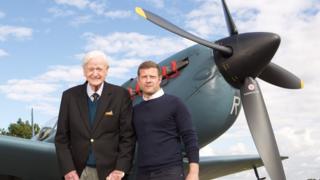 Now and again in my job, I get to meet a real hero. Not one of the many musical or sporting heroes who inspired me as a child. Instead, it's someone who lived a life out of the spotlight but did something so heroic that the process of interviewing them about their achievement stays with me long after I meet them.
For that reason, I will always associate the summer of 2015 as being the summer I spent filming a Channel 4 documentary with Tom "Ginger" Neil, the Battle of Britain pilot who died earlier this month, just three days shy of his 98th birthday.
Wing Commander Neil, to give him his military title, flew more than 140 missions and shot down 14 enemy planes during World War Two and is rightly best remembered as one of "the Few" - the pilots who took part in the Battle of Britain in September 1940.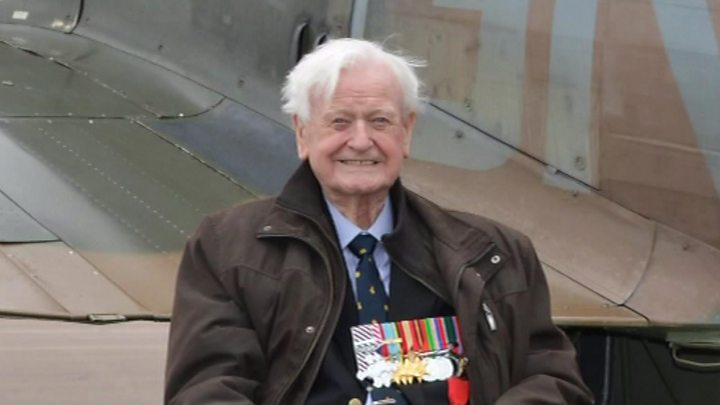 I had feared the worst on 10 July this year, when I didn't see Tom taking his place alongside the thinning ranks of the Few to commemorate the RAF's 100th anniversary.
Like any veteran I've met, their attendance at such events has nothing to do with the praise, rightly, heaped on them individually, but everything to do with honouring those who were sacrificed while fighting alongside them, and what those losses stood for, both personally and symbolically.
So not seeing Tom there rang alarm bells, which were sadly confirmed only a day later when I read of his death.
Within a week or two, another of "the Few", Geoffrey Wellum, had passed, and this week we lost Mary Ellis, one of the last of the Air Transport Auxiliary women. All three were blessed to live long healthy lives, but that makes their legacies all the more important to preserve.
The memories of the summer I spent filming with Tom and his family in 2015 are ones that I will cherish and hold fast for the rest of my life.
Even in his 90s, he was alert, keen to talk and to listen, and engaging company. But for everything I learned being with him, more importantly in Tom and his family I felt that I made new friends.
To have the privilege of his company over several interviews meant I got to experience his pragmatic stoicism, his candid honesty, his understated pride but also his disdain of blind hero worship and lazy jingoism.
It was an education and a lesson in how to grow old with an active, inquisitive mind and to never be defined by someone else's opinion of you.
Tom - who was decorated with the DFC (Distinguished Flying Cross) and Bar - was also a beautifully evocative published writer, able to transport you back to a stifling airfield in a hot summer in south-east England, and perfectly evoke the gut-churning fearful boredom of waiting to get in their air, then put you in the heat of the cockpit as the Hurricane or Spitfire roared to life.
You got every sense of what it was like to be a young man who had no idea if he would live to see the next day.
But in my interviews over the summer with him it was also obvious that he'd thought about the war and the country with a bigger perspective, and with a great deal of objectivity.
Make no mistake, he was a proud patriot and he had no doubt that we would win the Battle of Britain, but he never whitewashed history and fully admitted that the country was terrified and that the fact we had "home-field advantage" was the most important thing in winning.
He told me during the interview: "People were terrified. The Germans had invaded with paratroops in Belgium and Holland; everyone was scared stiff. We thought there'd be an invasion after Dunkirk.
"[However], you were so engrossed in the fighting, two, three, four times a day, you're so much at the sharp end, that you never thought about the invasion, your friends getting killed around you, and, of course, you're 19 or 20. We were kids, excited; it was a great adventure for me."
Battle of Britain: July to October 1940
The Battle of Britain was a pivotal moment in WW2 when the country stood alone against Hitler's seemingly unstoppable military power
After the fall of France in June 1940, Germany was considering invading Britain
The German strategy was to destroy Britain's air force and achieve control of the skies over southern England ahead of an invasion
Nearly 3,000 aircrew served with RAF Fighter Command during the battle
The RAF lost 1,023 planes and the German Air Force, the Luftwaffe, lost 1,887 planes
The summer I got to spend in his company turned out to be one of the most rewarding and educational experiences of my broadcasting career.
I mostly sat, listened, learned and tried not to ask too many stupid questions. I learned what the country was like at wartime, the fear, but also the pride.
I learned what it's like to have your life defined by others (to everyone he meets, he is the Battle of Britain hero), but he always told me that his life as a test pilot after the war was far more dangerous.
We talked about the modern world, with which he was engaged, and how he felt like he'd done his bit and could now happily pass on, to be with his beloved Eileen.
Through it all, I discovered that he had a keen sense of humour, no mean feat in your mid 90s when pretty much everyone you meet wants to shower you with [albeit] deserved platitudes.
'The Few'
In a speech to the House of Commons on 20 August 1940, in the midst of the Battle, the then Prime Minister Winston Churchill declared, "Never in the field of human conflict was so much owed by so many to so few"
Ever since, those who fought in the Battle of Britain have been referred to as "the Few"
More than 500 men died and nearly 800 more did not live to see the end of the war in 1945
The average age of the pilots was 20
The only one time I felt sad in his company was during a break in filming. We were in North Weald airfield, just outside London where Tom flew from, in the shadow of a memorial Hurricane.
He quietly confided he doubted that, in 20 to 30 years, anyone would remember the conflict, the stories, the sacrifice, and that the world would have moved on.
Real heroes never tend to admit to being anything of the sort, be they Battle of Britain pilots, or cave divers finding and helping to save trapped schoolkids in Thailand.
For the record, Tom, I'll respectfully disagree with your prediction. You will be remembered and we'll be grateful, mourn and continue to learn. It's because of ordinary people like you, who did extraordinary things, that we have the flawed but beautiful world we take for granted today.
Rest easy Ginger… and know that you're not forgotten.