Deadpool: Ryan Reynolds 'taking over leaked footage investigation'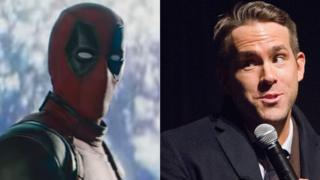 Ryan Reynolds says he's still looking for the person who leaked early Deadpool footage, four years after test footage was put online.
The franchise struggled to get the go-ahead until someone uploaded clips of the actor playing the superhero.
They were shared thousands of times and the reaction helped it go into production.
But two Deadpool films later, Ryan still claims to not know who was behind the leak.
He tweeted: "It's the 4 year Leak-iversery.
"UPDATE: Still searching for (the person) who leaked our test footage onto the internet causing Deadpool to receive a green light.
"Taking over the investigation myself. #Angry."
The post was put up with a picture of his character Deadpool waving.
The tweet has had thousands of responses with lots of fans hoping he "finds them" so they can be congratulated on helping with the film's success.
One wrote: "Gosh, I really hope you find him! And when you do, keep him right there cause he needs to be attacked. With hugs! BIG ONES!"
However, knowing the benefit the "leak" had on the franchise, not everyone is convinced by the "investigation" with some accusing the actor of leaking the footage himself - a smart move if he did.
"Sure, keep searching!! I think it's much closer than you think," suggested one.
Another added: "Does his name rhyme with Bryan Breynolds??"
The franchise has taken over $1bn around the world with a third film on the way.
Despite the success, there are rumours that there might not be many more films in the pipeline.
They follow a recent issue of the Deadpool: Assassin comic which included the character hinting that he'd be quitting with the line: "So I've been takin' as many high-dollar gigs as I can.
"Retirement communities in TIKI-TIKI land ain't cheap."
Follow Newsbeat on Instagram, Facebook and Twitter.
Listen to Newsbeat live at 12:45 and 17:45 every weekday on BBC Radio 1 and 1Xtra - if you miss us you can listen back here.