Princesses Beatrice and Eugenie on careers and 'being the first'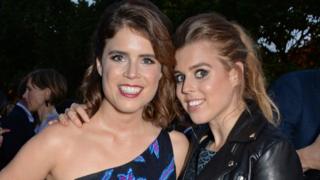 Balancing a day job and being a princess isn't easy, according to Princesses Beatrice and Eugenie.
"We are the first: we are young women trying to build careers and have personal lives, and we're also princesses and doing all of this in the public eye," Princess Beatrice, a business consultant, told UK Vogue.
"It's hard to navigate situations like these - there is no precedent."
They also highlighted the social media pressures on them as young royals.
"It's so easy to recoil when you see a perfect image, but it's important that it's real. We're real," said Princess Eugenie, who started posting on Instagram in March.
Vogue says the daughters of the Duke and Duchess of York felt it was the right time to share their experiences in the rare interview because it was a "year of milestones".
Princess Eugenie, an associate director of a London art gallery, is to marry her boyfriend Jack Brooksbank at St George's Chapel, in Windsor, in October, while Princess Beatrice turns 30 this month.
The sisters are eighth and ninth in succession to the throne.
Plastic-free wedding
Speaking to the magazine at Royal Lodge, their childhood home in Windsor, Princess Eugenie, 28, said she was "not stressed at all" ahead of the wedding.
"It's very nerve-wracking because you want it to be perfect but then you realise that you're going to be with the person you love forever and nothing else really matters," she said.
Mr Brooksbank, 32, is a former manager of Mayfair club Mahiki and the couple met while skiing.
Princess Eugenie added she was hoping to keep their wedding free from plastic, saying: "My whole house is anti-plastic now - and Jack and I want our wedding to be like that as well."
Princess Beatrice spoke about her relationship with her sister, revealing: "One of the biggest fights we ever had was about a pair of Converse trainers.
"We have the same size feet and both of us had identical pairs. One pair got trashed and the other sister may have swapped them."