Teenager Safaa Boular jailed for life over IS terror plot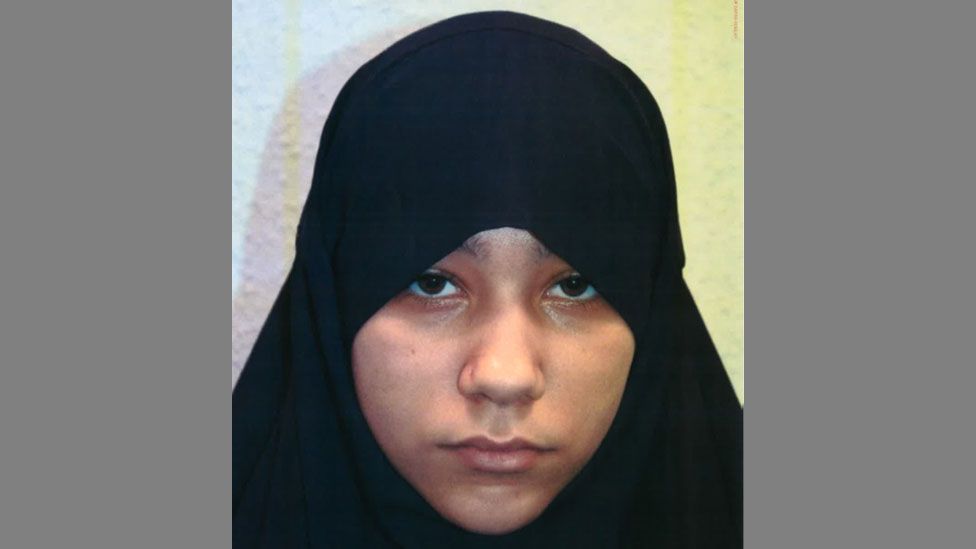 The youngest woman to be convicted of plotting a terror attack on British soil has been jailed for life with a 13-year minimum term.
Safaa Boular, 18, of Vauxhall, London, was convicted of preparing terrorism acts at home after failing to travel to Syria to join Islamic State militants.
The judge said she was a continuing threat with "deeply entrenched" views.
Following her trial at the Old Bailey earlier this year, a jury convicted Boular of two counts of preparing acts of terrorism:
Planning to die in a suicide bombing in Syria
Preparing to attack the British Museum when travel was not possible
Boular presented herself at the trial in Western clothing and declared herself deradicalised. Her defence team said she had been groomed and exploited.
But Judge Mark Dennis QC described her as "a bright and very articulate person", able to stand up to anyone.
"She acted with open eyes," he said. "She was old enough to make her own decisions and her own choices."
And he warned she posed an ongoing threat.
"Based on the nature and circumstances of this offending, including the extent of her radicalisation and the depth of commitment to the Islamic State cause... I am satisfied there remains a significant risk to members of the public," said the judge.
"The defendant has yet to undertake deradicalisation measures which might undo completely her previous mind-set.
"There is insufficient evidence... to conclude at this stage that the defendant is a truly transformed individual."
Boular's radicalisation began in 2012, when her mother began apparently to support jihadist causes.
Two years later her older sister, Rizlaine, attempted and failed to reach Syria.
In the wake of the 2015 Paris terror attacks, when she was 15-years-old and preparing for her GCSEs, Safaa met online a female Islamic State group recruiter - and in turn began chatting to British fighter Naweed Hussain, originally from Coventry.
Their Instagram flirting led in August 2016 to an online "marriage" ceremony as the besotted teenager fell in love with a man twice her age.
The trial heard that she had wanted to join Hussain in Syria, but she could not travel as she had already fallen under the suspicion of the security services.
Hussain urged her to attack the UK - and gave away his plans to MI5 officers posing online as extremists.
When he was killed in what is believed to have been a targeted drone strike, Boular pledged to go on without him.
She divulged his plans for a grenade and gun attack in London to another MI5 undercover officer who contacted her online, pretending to be Hussain's commander.
After being charged and held on remand for her suspected travel plans, prosecutors alleged Boular had encouraged Rizlaine from prison to take her place, referring to the attack as a "Mad Hatter's tea party" and weapons as "cakes".
During the sentencing hearing, Safaa Boular's defence team urged the judge to take into account what they described as her deeply troubling background, including the influence of her "very radicalised sister" and "neglectful mother".
Her teenage years had been chaotic, not least because of her life-threatening diagnosis of type 1 diabetes, they said.
Defence barrister Joel Bennathan QC said Boular was "an offender by exploitation".
He said: "This was an ill child from a damaging home. She was groomed, radicalised and then sexually groomed."
In June, her sister Rizlaine Boular, 22, was sentenced to life with a minimum term of 16 years.
Mina Dich, 44, their mother, was jailed for six years and nine months for assisting the plans.
The pair had admitted preparing a terror attack in Westminster by carrying out reconnaissance of landmarks and buying knives and a rucksack.