James Whale suspended from Talk Radio over rape victim interview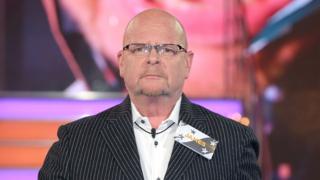 Broadcaster James Whale has been suspended from Talk Radio after an interview with a rape victim which it says "completely lacked sensitivity".
The station said "regrettable errors" were made by the presenters and producers of Monday's show.
Writing in The Guardian, author and journalist Nichi Hodgson said: "I was interrogated, ridiculed and had my journalistic integrity questioned."
She says she was sexually assaulted in the back of a black cab in January.
'Victim blaming'
Ms Hodgson was discussing the issue on Mr Whale's show as part of a segment on flirtation since the dawn of the #MeToo movement.
In a video clip from the radio interview, the presenter can be seen mouthing the words "orally raped", shaking his head and laughing when Ms Hodgson details what happened to her.
The recording, originally posted by Talk Radio but since deleted, has been put online by The Guardian.
In her article she described returning from a night out when the man jumped into the taxi, pushed her to the floor and assaulted her. Police said there would be very little chance of finding the culprit due to lack of forensic evidence and the fact CCTV is generally destroyed after 30 days.
Ms Hodgson wrote: "What began as a typically strident exchange between me and a journalist known for his belligerent presenting style became a merciless exercise in how not to interview someone who has experienced a sexual assault."
He questioned the details of the incident before what she described as "the final, victim-blaming finger stab" when he asked: "Are you not concerned that unless you went further with this, then this brute could actually do it to other women?"
She added: "Whale had the opportunity to let his listeners understand what it feels like to be sexually violated, to learn what may happen if you go to the police (who were nothing but supportive yet realistic with me) and to facilitate a nuanced discussion about what respectful sexual advances should look and sound like.
"Instead, his interrogation of me became part of the continuing problem, the very reason for why those who experience assault will continue to keep quiet about it."
'Full investigation'
Victims of sexual assault are entitled to anonymity but Ms Hodgson has chosen to speak publicly about what happened to her.
In a statement, since retweeted by Mr Whale, Talk Radio said: "James Whale's interview with Nichi Hodgson on Monday was conducted in a manner that did not reflect the values of the station and completely lacked sensitivity when she discussed her personal story.
"This style of broadcasting is not something that Talk Radio supports or encourages, and we have taken the decision to suspend James Whale pending a full investigation.
"This incident saw regrettable errors made by both the production and presenting teams and we are taking measures to ensure that they are not repeated again."
Mr Whale came to prominence in the late 1980s as the host of The James Whale Radio Show, which, despite its name, was actually a TV show that became a Friday night fixture on ITV until the mid-1990s.
In the 1990s, he moved to the radio station Talksport, but was fired in 2008 after calling on his listeners to vote for Boris Johnson in the London mayoral election - Ofcom ruled that it was a serious breach of impartiality rules.
He then hosted the drive time show for LBC and took part in the 18th series of Celebrity Big Brother in 2016 - becoming the sixth housemate to be voted out.
He joined Talk Radio in 2016, three months after his appearance on the reality TV show.
The BBC has approached Mr Whale for comment.